10 Ideas for Creating Your Perfect Monochrome Bathroom
One of our all-time favourite projects to work on is creating the classic monochrome bathroom, with black and white furniture and tiles.
A look that's been loved for hundreds of years, it's clear that the black and white bathroom is not going to go out of trend any time soon.
Which is perfect really, because the bathroom is an environment we only update every ten-fifteen years.
Exuding a luxurious, classic vibe, the monochrome bathroom is perfect for a modern or period property – it's extremely versatile.
The black and white bathroom can be achieved throughout different elements – including a monochrome suite, furniture and tiles and accessories.
1.The White Bathroom Suite
An affordable solution for a black and white bathroom is a simple white suite – finished with classic chrome taps.
Our Neon three-piece suite includes the beautifully luxurious Milo freestanding bath, the Neon wall-hung vanity unit and the Esk soft-closing toilet.
The wood-effect finish of the vanity unit creates a soft, warm finish – ideal if you're going for a contrasting sharp look of black and white tiles.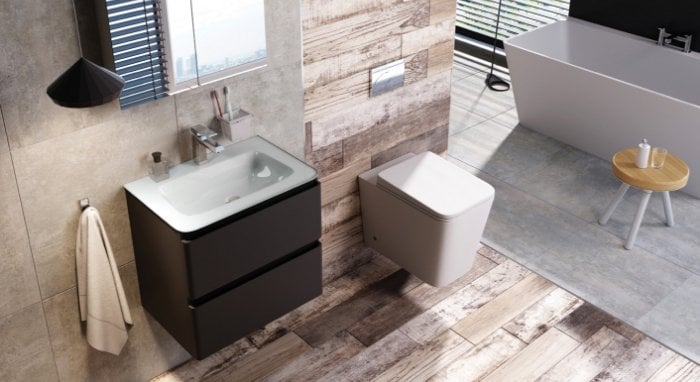 2.The White Vanity Unit
To add a hint of luxury, a white vanity unit could be a great go-to. Our Stonehouse vanity unit is French-inspired, providing an elegant, retro, 1930s look.
The gloss finish reflects light and makes the room feel brighter and bigger.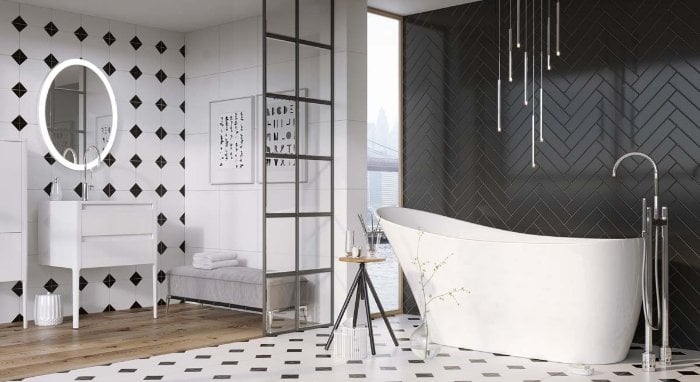 3.Modern Take on Monochrome Bathroom
For a more modern take on the monochrome trend, you could go for a vanity unit with concrete-effect drawers.
Our wall-mounted Devlin unit is available in 800mm and 1200mm and creates a boutique-hotel vibe when paired with one or two countertop bowls.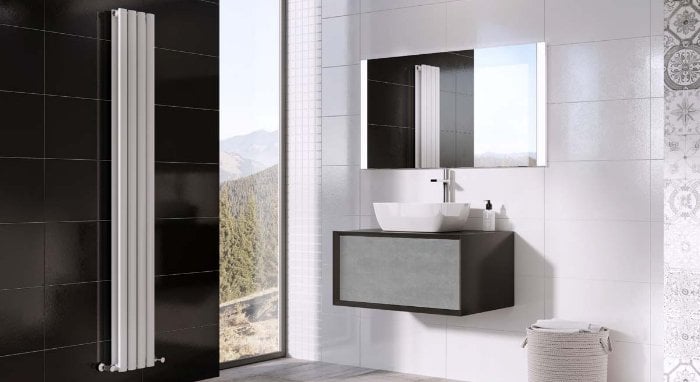 4. Black Freestanding Bath
The freestanding bath is the ultimate bathroom luxury.
Our black Eton freestanding acrylic bath has a modern curved design, and the contrast between the black exterior and white interior is the perfect addition to a monochrome bathroom.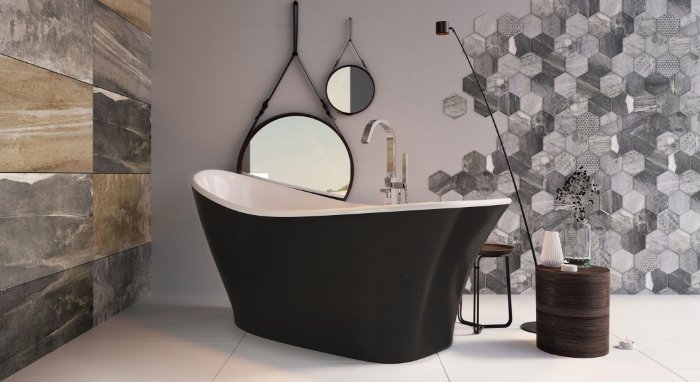 5. Classic Black and White Bathroom Tiles
Our Echo tiles are suitable for the floor or walls, but we think they make quintessential statement floor tiles.
They create a traditional look when paired with white sanitary ware and chrome fittings.
6. Vintage-Inspired Bathroom Floor Tiles
The vintage look is getting a well-deserved moment in the spotlight, and our black and white Fired tiles radiate effortless, laid-back cool.
With aged and worn edges and textured scratches, the black and white option has inherent imperfections which give the tile serious personality.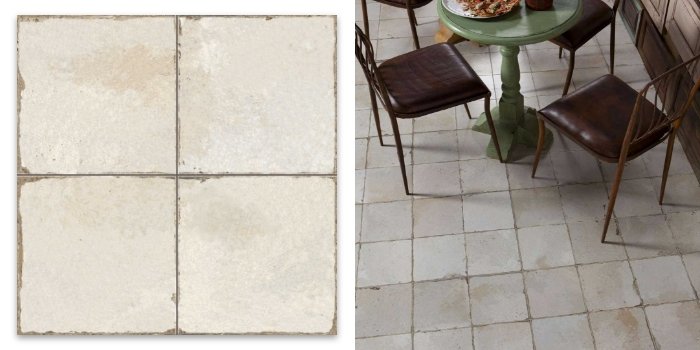 7. Masculine Black and White Tiles
Our Stratton tiles exude understated luxury. An unrivalled masculine option, this tile is a plain – but beautiful – option.
Jazz the bathroom up with quality designer radiators, and you've got a winning combination.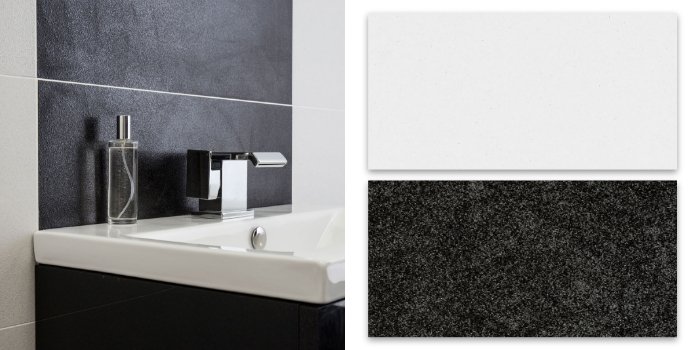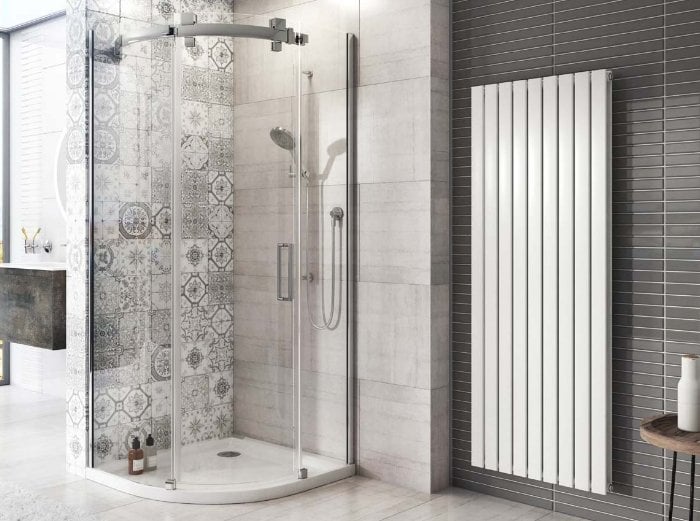 8. Luxury Black and White Tiles for a Small Bathroom
To create a luxury feeling in a small bathroom, you can't go wrong with our Spice range of tiles.
Available in black and white, and with our without a textured wave, you can mix and match to create an impact in even the most compact bathrooms. Add mirrors to create the illusion of space.
9. Combine Trends for a Modern Monochrome Look
If you want to create a glamorous, relaxing haven in your bathroom, then our black Dolchi Vita tiles are for you.
Combining a modern take on the metro tile, with shades of gold marbling, it's a bold, opulent choice.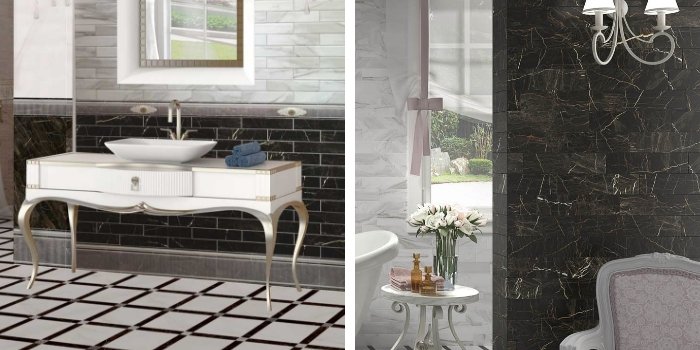 10. Classic Metro Black and White Tiles
Choose the classic black or white metro tile whether you're going for a period or modern space.
They can be laid in many different patterns if you want something slightly different from the traditional brick choice.
Match your grout to create a clean finish, or choose a bright grout colour to make a statement.