March 20th 2020
4 min read
7 Ways to Freshen Up Your Bathroom on a Tight Budget
If you'd like to freshen up your bathroom on a tight budget, we've put seven budget-friendly tips together for you.
1. Grab yourself a can of paint and a brush

Whether you stick with the same colour, or change it up completely, you'll still see a difference by giving the room a lick of paint. For smaller bathrooms, painting the ceiling with a light colour can make your small bathroom look limitless. If you're wanting to go for a darker tone, e.g navy, it works perfectly with warmer metal trends like brass and copper.
Before painting, make sure your walls are thoroughly clean and free from mould.
Quick tip: did you know you can use paint for up to two years after it's been opened? If you've already got some in the garage it's even better value.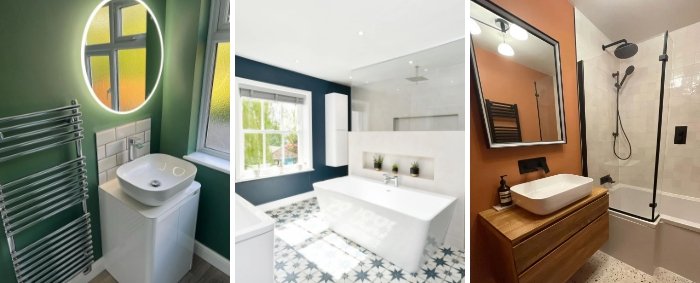 2. Re-do one wall of tiles
Rather than retiling everywhere in your bathroom, choose one wall and make it a feature wall. Behind the shower usually creates a stand-out, wow-factor.
If you're wondering what type of tile to go for, we'd suggest either glazed ceramic or porcelain tiles. Large-format tiles also trick the eye into thinking the space is bigger than reality. Plus, they have fewer grout lines, meaning less area to scrub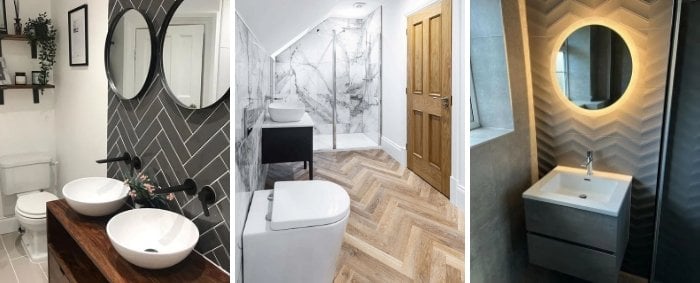 3. Add candles
One of the easiest and cheapest ways to freshen up your bathroom is adding candles.
There are many benefits of having them throughout your home. Within your bathroom they can help provide a spa-like feel, making it easier for you to relax after a long, hard day!

Research has also found that burning candles can be beneficial to your health as they provide the perfect atmosphere to induce calm and a sense of wellbeing.
They're also a stylish way to add the finishing touch to your bathroom. Subtle colours add a soft touch to any space. Alternatively, bright, bold colours add impact to your bathroom.
So, if you're wanting to find the perfect candles for your bathroom, check out Bomb Cosmetics' wide range of fragrances.
4. Update taps and shower head
A simple and easy option is to replace your fixtures. Whether you choose to change your taps, your shower head, or both, it'll completely change the look, giving your bathroom a very pleasing visual lift.
If you have a more traditional bathroom, a chrome finish will be better suited. Or, if you're aiming for a more modern bathroom, keep an eye out for our new black accessories that'll be coming in stock soon!
If you're looking for ways to clean limescale off your shower head - without having to replace it - give this guide a read.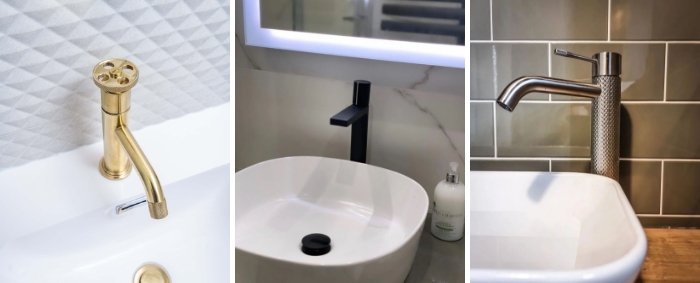 5. Co-ordination is key
Co-ordinating your furniture is another way to update your bathroom.
Create a harmonious colour palette by matching your vanity and storage units to your tile/wall colour – we promise it'll make a big difference!
For those homeowners who have a bath panel, we now offer them to match your vanity units. Available in white, light oak, anthracite grey and many more – browse our range now.
6. Accessories
Accessories are essential for adding style and functionality to any bathroom. Here are a few accessories that offer a quick and easy way to help modernise your room:
- Hold your toilet paper with style. Add or change up your toilet roll holder. A simple yet vital accessory for your bathroom, with low cost
- Clear up some radiator space and neatly store your towels by using one of our towel rails or rings
- Keep your basin soap-free by adding soap dishes and dispensers – it'll look a lot neater! Opt for stylish soap dispensers to add elegancy to your bathroom
- As many of us are aware, a bathroom can easily become cluttered, so it's probably worth investing in some on-trend storage solutions. Shower baskets are great for keeping all of your toiletries in. If there is no room in your shower cubicle for storage, you may even want to go for bathroom shelving.
P.S. keep your eyes peeled for our brand-new black accessories coming out soon.- Did you know our brand-new black taps are now available?
7. Mirror

A mirror is a great addition, as they provide an easy way to inject style into any kind of room.
They can give the illusion of light. If you place your mirror on the opposite wall to a window, the sunlight will shine onto the mirror and be reflected throughout the room.

We have a range of different style mirrors, including to illuminated options, extending to mirrors with Bluetooth and built-in speakers, helping you enjoy your morning shower a little bit more!