March 26th 2020
8 min read
Alternatives to Toilet Roll: Bidets, Douches or Smart Toilets?
The worldwide coronavirus outbreak has sparked a stockpiling frenzy, with households across the UK hoarding £1bn-worth of extra essentials, such as food, paracetamol and toilet roll.
It's left many people scratching their heads: why stockpile toilet roll? There are a number of experts who have had their say on the matter. The conclusion?

People want to have some control over the situation. And they want to hold on to the first world comfort of being able to use the toilet. But still, this is still not a valid reason for widespread toilet roll buying. After all, running out of toilet roll isn't the end of the world. You can wash yourself. But it seems that people are worried about the situation, because Google searches for 'alternatives to toilet roll', 'bidets', 'douches' and 'smart toilets' have skyrocketed since toilet-roll-gate began.

Bidet sales, in particular, are soaring.
Could this be a small silver lining to the outbreak; people are coming around to the idea of using alternatives to toilet roll? According to the CPI, the UK uses 6.7billion toilet rolls per year, and global toilet paper production consumes 27,000 trees per day.

Actually, there are numerous benefits of bidets and douches:
Bidets eliminate the need for toilet roll, saving millions of trees around the globe per day
Bidets are healthier than toilet paper, providing better personal hygiene
So, if the toilet roll saga has given you some food-for-thought and made you consider the best alternatives to toilet roll, here's your options…
Option One: The Bidet
The first alternative to toilet roll, is the good-old bidet. It's believed to have originated from France. A separate wash basin to the toilet, it is a bowl designed to wash off human waste after using the toilet. You can either sit on the unit or hover over it.
They are fitted with a water tap which are generally referred to as bidet mixer taps, which have an adjustable nozzle for controlling water flow and temperature.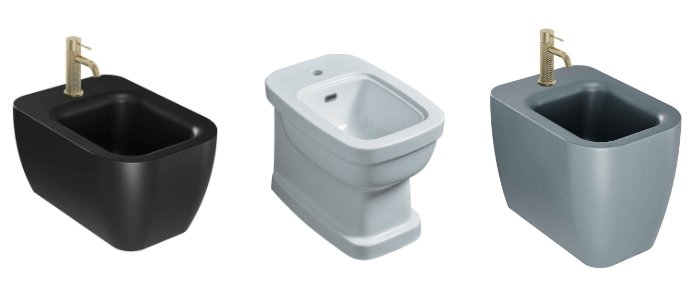 Household benefits of using a bidet
Bidets are healthier than toilet paper, providing better personal hygiene and cleaning
Bidets help you to save money in the long-term and will reduce your household waste
Bidets reduce the risk of clogging the toilet with paper
They are better for you if you have irritated skin or any rectal conditions which can make toilet paper painful
Downsides of installing a bidet compared to other toilet roll alternatives
When compared to a douche, a bidet is more expensive to install
Bidets take up additional space in the bathroom, where floor area often comes at a premium
You have to move from the toilet seat to the bidet, which can be difficult for people with mobility issues
FAQs:
Are bidets sanitary?
Yes, bidets are clean and sanitary. Water is the best way to clean everything, and bidets are handsfree, meaning that you spread fewer germs cleaning yourself with a bidet.
How do you install a bidet?
It is a fairly simple process to install a bidet if you know what you are doing; it is the same process as installing a toilet. If you've got no experience, we would recommend using a professional to do the job.
How much does it cost to install a bidet?
The bidet itself will cost in the region of £150-£450, depending on the style of the bidet.
Using a professional to install a bidet will cost between £100-£150, depending on the complexity of the job; giving you a total cost of £250-£600 for the whole project.
What are the best bidets available?
The most common type of bidet is floor-standing, because they offer a traditional and classic appearance. However, there are also wall-hung bidets available, providing a more modern touch; perfect for a contemporary bathroom space.
Our Bidets
The most popular style is our Evane floorstanding bidet. With a premium design that exudes quality, it presents a clean and sophisticated appearance that's a little bit of modern blended with a touch of classic styling. The bidet has a single central tap hole, however there are also two pre-punched holes at either side, enabling you to modify the basin if three tap holes is more to your taste.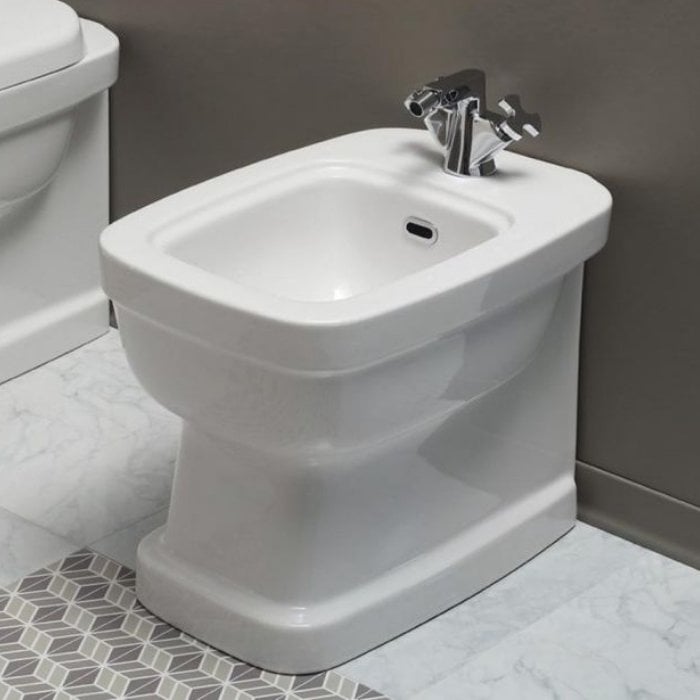 The Burlington floorstanding bidet is another popular option. Burlington is one of the most sought-after traditional bathroom brands, and the bidet allows you to complete the look. This unit is not full back to wall, making it ergonomic and easy to use, along with an overall height of 390mm.

View our full range of bidets..
Option Two: The Douche
First of all, what is a douche? It's another hygienic alternative to toilet roll.
This device is used to inject a stream of water, allowing you to clean intimate parts of the body. A hand-held fixture, douche kits are fitted to the wall of your bathroom for easy reach when you are on the toilet, allowing you to spray yourself clean, rather than using dry toilet paper.
Benefits of using a douche
A douche is more hygienic than toilet paper
Douches help you to save money in the long-term and will reduce your household waste
Douches reduce the risk of clogging the toilet with paper
They are better for you if you have irritated skin or any rectal conditions which can make toilet paper painful
They are less expensive to install than a bidet or a smart toilet
You don't have to move off the toilet to use a separate bidet
Cons of using a douche
Douches have a powerful stream of water, which can be uncomfortable for some users
They are prone to user error, which can leave your bathroom sprayed with water
FAQs:
What is a douche?
A douche is a hand-held shower, usually fitted to the wall – within easy reach of the toilet – so that the user can clean themselves with water, rather than toilet roll.
How do you install a douche?
Installing a douche is not as simple as you may think; they must adhere to water regulations. As its category-5 waste, you will need a separate breaker tank to feed the douche in the bathroom, it is not just as simple as cutting into the pipework.
If you are unsure, it's better to use a professional for the job.
How much does it cost to install a douche?
Our douche kits start from £46, and for a little more luxury, they go up to £131. A plumber will charge up to £400 to install a douche, depending on the complexity of the work.
Our Douche Kits
Our most affordable douche kit is the unit with a manual isolating valve, currently in the sale at £27.60. A high quality, chrome-plated luxury douche spray shower kit, the kit comprises a shower head with precise control trigger, hose and wall mounting bracket with fixings.
The second douche comes with a thermostatic mixer valve, to ensure that the water doesn't dramatically increase or decrease in temperature, taking care of the user and ensuring they are not scalded. It is currently in our sale at £78.60.
Option Three: The Smart Toilet
The most intelligent and luxurious alternative to toilet roll is a smart toilet.
What is a smart toilet?

A smart toilet has many built in features that improve the toilet experience for the user.
With innovative technology, the toilet nozzle creates a pulsating and oscillating massage, while providing enhanced cleaning of the user – with adjustable water pressure and temperature available. The toilet also provides a drying facility, eliminating dampness with air drying.
As well as user benefits, the toilet also senses when the seat is occupied and instantly takes care of any odour; while the rimless, quick-release seat and vortex flush make cleaning easy.
User safety and accessibility has also been planned. The night-light enables a clear and safe approach to the toilet, whilst minimising sleep-loss due to bright lighting. Each setting can be personalised to the user.
Benefits of using a smart toilet
It has hygiene benefits for the user, whilst eliminating the need for toilet roll or drying
It removes odour from the room, providing a pleasant experience for all
With a night light, the toilet provides a safe and clear passage to the toilet
Compared to a bidet, they take up less room in a bathroom
Cons of a smart toilet
Compared to bidets and douches, they are relatively expensive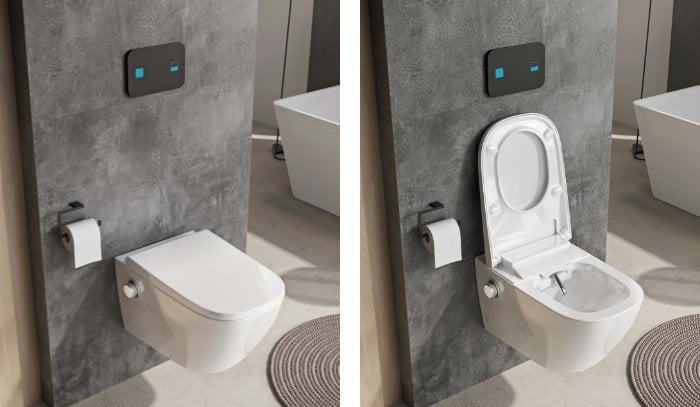 FAQs:
How to install a smart toilet?
It is best to leave the installation of a smart toilet to the professionals, especially after investing in such a relatively expensive product.
Smart toilets can be tricky; they have intricate parts which require years of experience to understand. Our bathroom and tile showrooms can recommend the best people for the job.
How much does a smart toilet cost?
Smart toilets range hugely in price, and that's because the technology available differs from product to product.
You can buy a smart toilet seat from around £100, but their functionality is very limited and often only provides the bidet. They can go up in price to around £7,000 – a cost that's simply out of reach for most people. The average price is around £2,000.

What is the best smart toilet?
The best smart toilet is the one which meets all of your needs and fits in with your budget and style. It's best to shop around.
Our Smart Toilet
Our Darwin smart toilet is sure to impress in the bathroom. This bidet toilet combo is packed with functionality, making for a more comfortable experience whilst ensuring maintenance of the loo is far easier. This clever toilet is easily controlled by remote control or by the dial situated at the side of the unit.
This intelligent toilet has a wall hung design, which will require a concealed mounting frame that must be purchased separately.
Functions:
1. Pulsating & Oscillating Massage - A specially designed washing nozzle alternates in motion to provide enhanced cleaning as well as a relaxing massage.
2. Adjustable Water Flow – Easily adjust water pressure as well as the position of the nozzle. A memory function enables you to save your personal preference.
3. Night Light – Switch to low light conditions at night, enabling a safe & clear approach to the loo whilst minimising loss of sleep due to bright lighting.
4. Odour Extraction – Sensing when the seat is occupied the toilet instantly takes care of any odour. Preventing any detection of lingering odours.
5. Effortless Cleaning – Rimless with a quick release and anti-bacterial seat, as well as a powerful vortex flush – this toilet makes cleaning a breeze.
6. User Pre-sets – Personalise the settings so every trip to the loo is customised to suit you!
So, there we have it, the three alternatives to toilet roll: bidets, douches and smart toilets. Which one will you go for?