December 12th 2022
3 min read
Bath in a Bedroom - How to Nail it
Lee Reed, Head of Design at Easy Bathrooms, explores how baths in bedrooms are no longer just for lavish boutique hotels but can be the pièce de resistance of any master suite.
Freestanding baths in bedrooms have become a staple in the world of luxury hotels but this look can sometimes be considered too impractical for the home. Yet, as we've found in recent years, open plan is a great way to live, so why shouldn't this be the case for master suites? There is, after all, something quite opulent and romantic about being able to get into the bath without having to leave the comfort of your bedroom.
While luxury hotels have been designing bedrooms with baths in for quite some time, the explosion of image-based social media, and our desire to replicate the sense of luxury within our homes has meant there has been a concerted shift towards a bathroom receiving the same attention as any other room in the home. The look is one of aspiration, showcasing the beautiful freestanding bath at its best. The cosiness of the bedroom makes it a place of relaxation and comfort, so placing a bath there only further enhances this.
It will also need to be an investment piece as it will be hard to create the desired look with a low to mid-market product. If you are going to have your bathtub as the star of the show in your bathroom, it's got to be a feature, make a statement and have plenty of presence. If privacy is an issue, consider a lock on the bedroom door, rather than on the ensuite. Also consider window dressings in your space if the room is overlooked. Opaque blinds and voile curtains can create layers that allow the room to remain bright in the daytime, but that also offer privacy from the outside world.
However, to make the 'trend' work, there are some essentials to think about, both from a design and functionality point of view.
One area that is essential is space. If you don't have space to build an en suite, your room probably isn't big enough to hold a bathtub. A bathtub in the bedroom is not an option for space limited living, it works best as an indulgent feature to add interest to an already grand room. However, while many examples that incorporate bedroom baths are classic or period-inspired with traditional rolltop baths, the idea could be adapted across interior styles, with contemporary freestanding baths gaining momentum.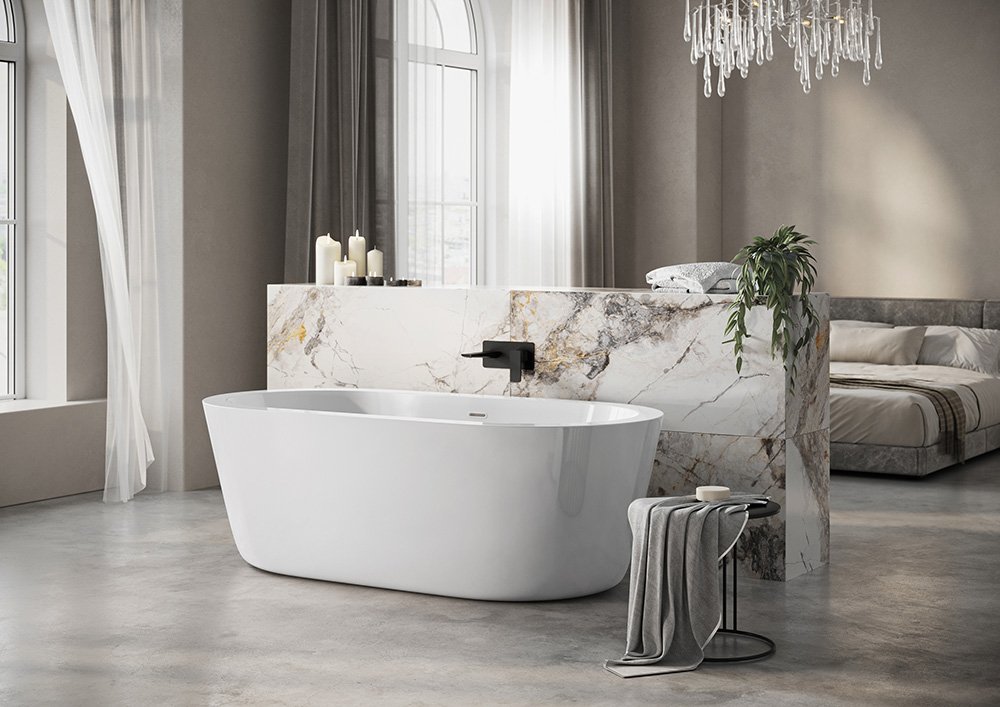 Choosing to put your bath in your bedroom can mean you need to re-jig your plumbing, which might have been the case anyway if you were adding in a freestanding bath into your bathroom. Try adding in a (slightly) raised plinth to help hide any plumbing or explore installing a half wall which would mean you can choose wall mounted taps, rather than just floor mounted. Choosing this option also helps you to 'zone' so that you can pick a suitable floor covering. Most bedrooms will have wood or carpet floors, which don't mix awfully well with baths and water. A slightly raised plinth allows you to pick a contrasting or matching ceramic or porcelain tile that is waterproof, and any spills can be easily cleaned up.
The other consideration is the location of your bath in relation to electrical items and plug sockets. Consult a qualified electrician during the planning stage to ensure your new bedroom is compliant. They will be able to advise you on what is suitable and what won't work.
Book your free bathroom design consultation in store today.