September 13th 2016
6 min read
Bathroom Storage Solutions for a Happier House
When most people think about bathroom design the last thing on the list is storage. Often overlooked, storage is an essential component to a bathroom that works well – so storage should be of the same importance as where you're putting your basin, toilet and bath.
Even if you want to achieve a minimalist look for your bathroom, you'll still need somewhere to put bathroom essentials like toothbrush, toothpaste, toilet rolls and towels. Thankfully there are a lot of options out there that won't compromise the look of your bathroom or take up unnecessary space. In fact, a good storage solution could even free up room space – enabling you to get rid of bulky furniture or your airing cupboard.
What do you want to store?
You might not realise how much your bathroom actually stores right now, so as a starting point why not go into your bathroom and make a note of everything you have in there right now – and anything that is missing that you would like to keep in your bathroom.
Think about shower gels, soaps, hair care products, toilet products, cleaners, cloths, combs, makeup, tooth care products and apparatus, towels of all shapes and sizes, your bath robe to name but a few of the most common items stored within the bathroom.
Does your new bathroom design offer enough storage to house your current array of items and if you're thinking about putting these things elsewhere is it practical to find a storage space outside of the bathroom to accommodate these or will that just become a hassle in future?
Utilising all space available
If you think about your bathroom as a cube, you'll soon realise there is lots of space that is not being fully utilised and can be turned into storage. A classic example of this is the space under your sink, which is why vanity units have become so popular.
Don't think of space as just your floorspace – think about your walls, your floor, space in and around your fittings even your ceiling in some cases. How can these elements be used better and how do they fit in with one another to potentially offer you another storage solution.
Vanity units
For years the space under your basin has only been used to house your basin pedestal and act as a place to put your feet. Nowadays most bathrooms are using this space for storage thanks to the increasing popularity of vanity units – even if your pipework is coming up through your flooring.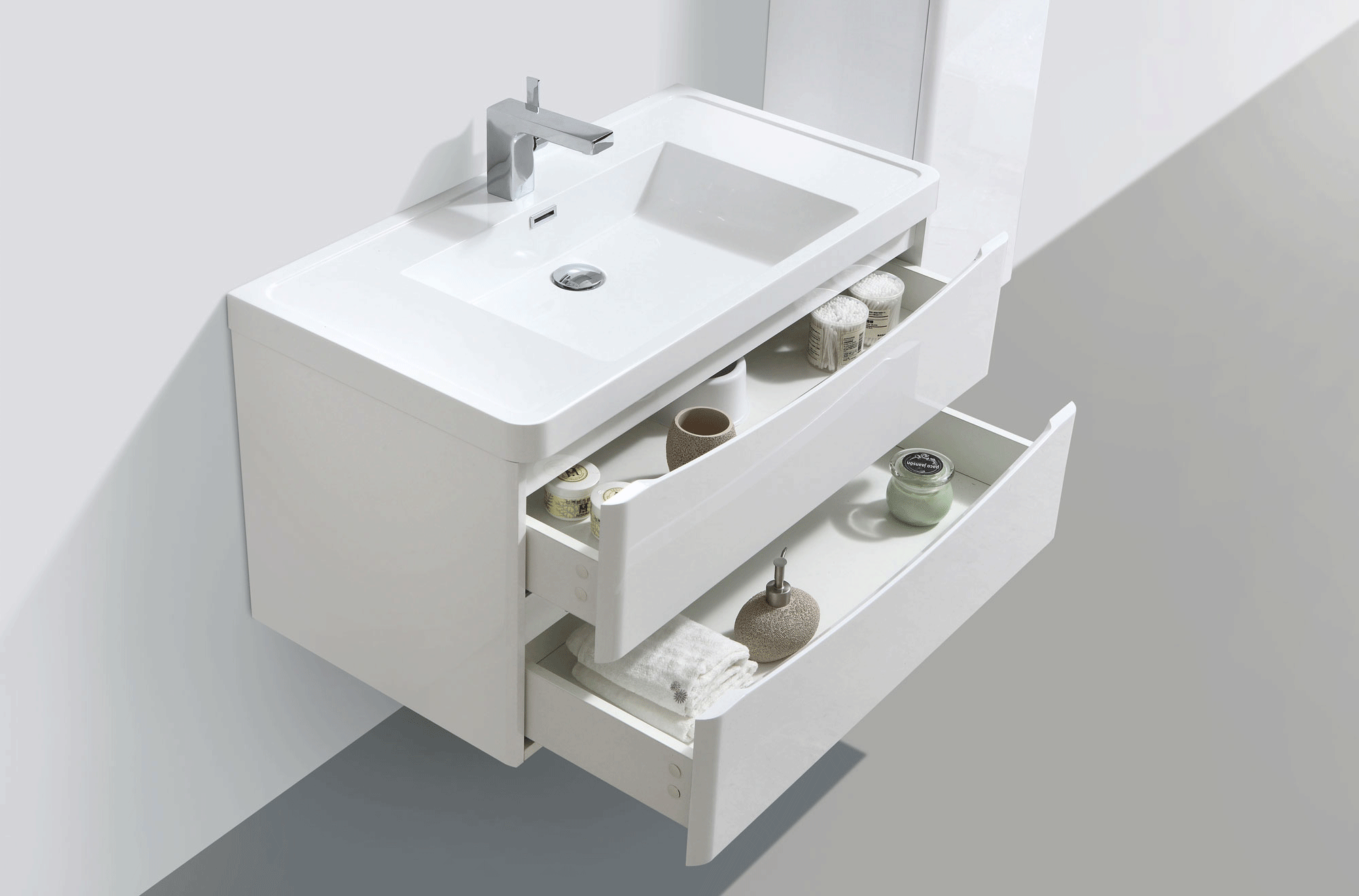 Vanity Units are virtually essential in modern bathroom design as a storage space and you will be surprised at what a large variety of units are available and how much they can actually store. Perfect for toilet rolls and bathroom essentials like cleaning products and shower gels, the most common vanity units are ideal for small items – but larger double basin units are perfect for larger bathroom accessories like towels.
Mirrored cabinets
They might make you think of dreary 1980s design or a boxy means-to-an-end but the modern mirrored bathroom cabinet is so much more than this and can really compliment the look of your bathroom.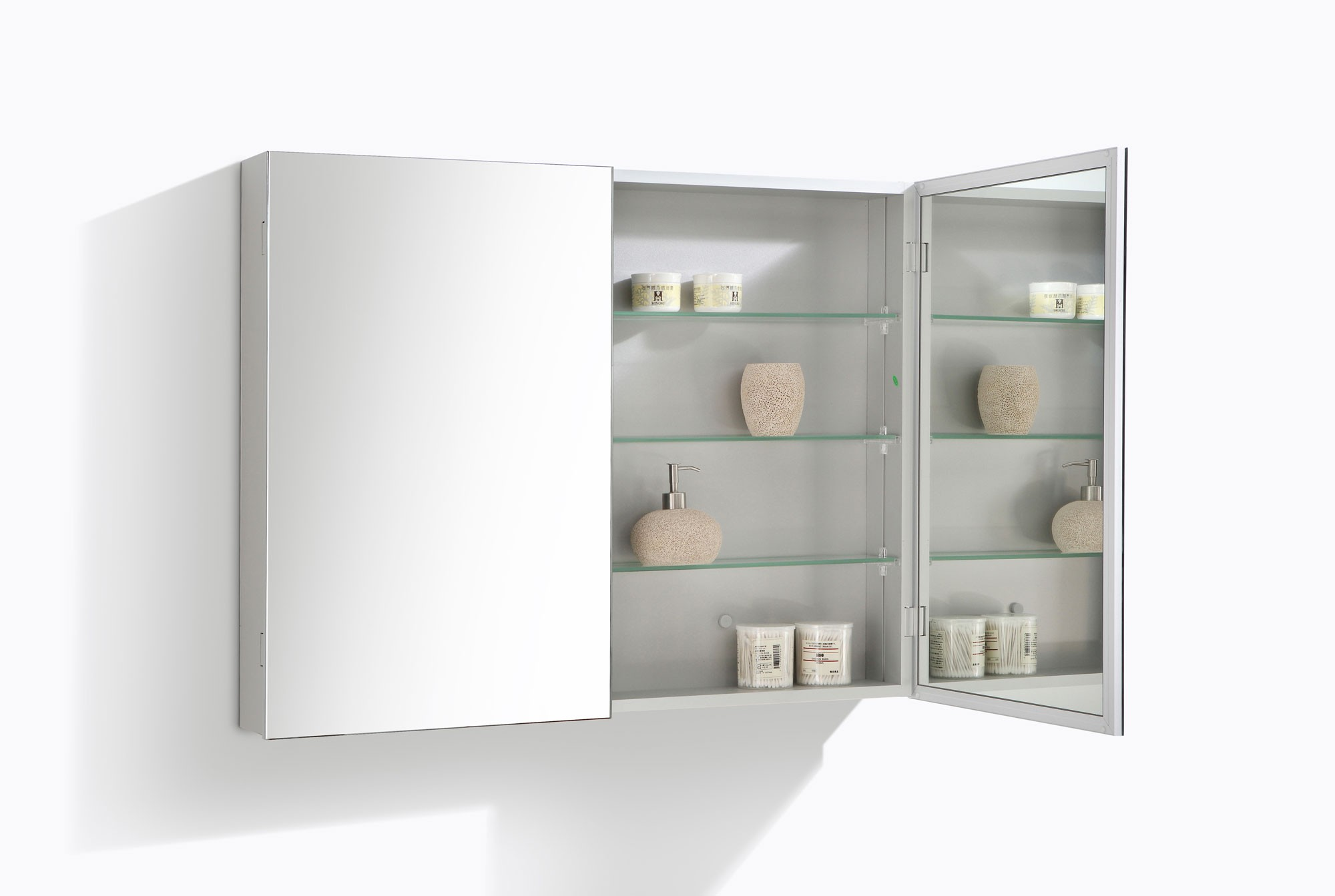 Stylish and elegant in their own right, a beautiful mirrored bathroom cabinet can become a centrepiece of your bathroom and offer much more than storage – with mirrors and other accessories available on many top-end models of bathroom cabinets.
Great at storing toiletries, the mirrored bathroom cabinet can offer a huge amount of storage space if you have a large amount of wall space and opt for a larger cabinet to fill it.
Packed with features, many modern mirrored bathroom cabinets offer lots of additional extras including LED lighting, shaver sockets and built-in mirror demister so your mirror won't steam up all of which add up to making a bathroom cabinet an essential piece of bathroom storage.
Large cabinets
Larger items will need to go somewhere so even if you have a vanity unit you'll probably need a place to put things like towels – unless you have opted for a double vanity unit.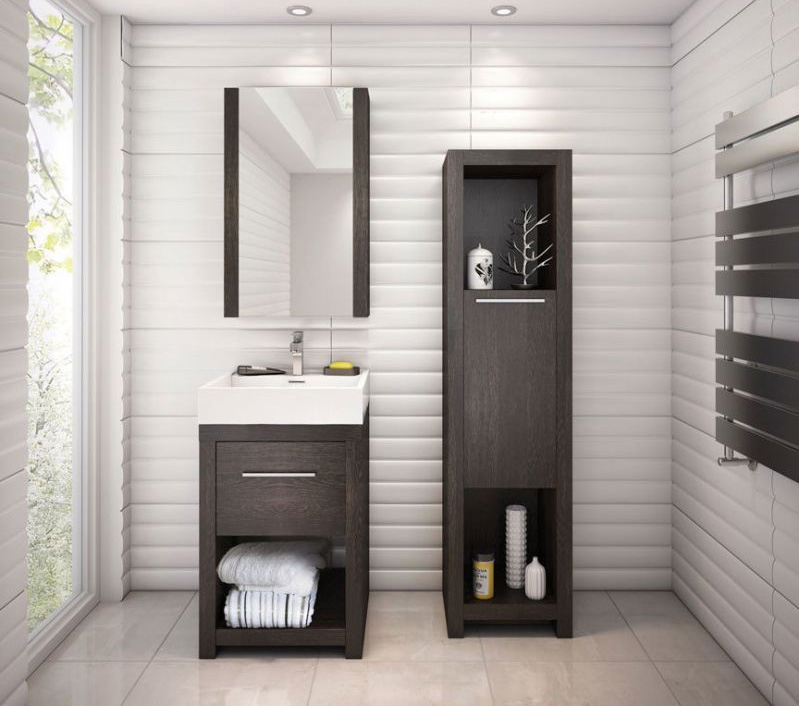 Unlike traditional bathroom storage like airing cupboards, most large cabinet designs are much less obtrusive and make use of the height of your bathroom rather than dominate the width.
With optional wall hung bathroom cabinets your bathroom will feel less claustrophobic.
Accessories
It may be obvious but the simplest things are often overlooked – things like toilet roll holders, towel holders, toothbrush holders and where to put your shower gel. These kinds of visible storage devices can be taken for granted but you'll certainly need to have them.
Choosing the right accessory can be as impactful as picking the perfect basin in terms of aesthetics and you are not limited on choice – we offer a selection of intentionally cubic accessories for the modern bathroom or a more understated curved bathroom accessory particularly good at blending in with its surroundings.
Whatever you choose make sure the materials your bathroom accessories are made from are suitable to be used in your bathroom and that you position them carefully so that they're not subjected to constant falling water which can damage their contents.
Fitted units
If you are pressed for general storage or you have a lot of cosmetic products you want to keep in your bathroom then fitted units could be a godsend.
Fitted units will give you as much or as little storage as you want – offering you a completely custom fit and look that is uniquely tailored to your needs.
Modular fitted systems like our Moda and Edge collections allow you to not only add an infinite amount of storage with seamless integration but also factor in other bathroom essentials such as your toilet and basin.
This type of system is not only great for people who are looking to store all of their bathroom supplies in one place – it is also exceptionally convenient for homes limited on general storage space – enabling you to utilise your bathroom space as a storage room without compromising its look.
Recesses and side panels
The shape of your bathroom could present you with an opportunity to make extra storage space for various bits and pieces if you look carefully enough. You can also get create right at the beginning of the design process and fashion your own storage with some clever additions.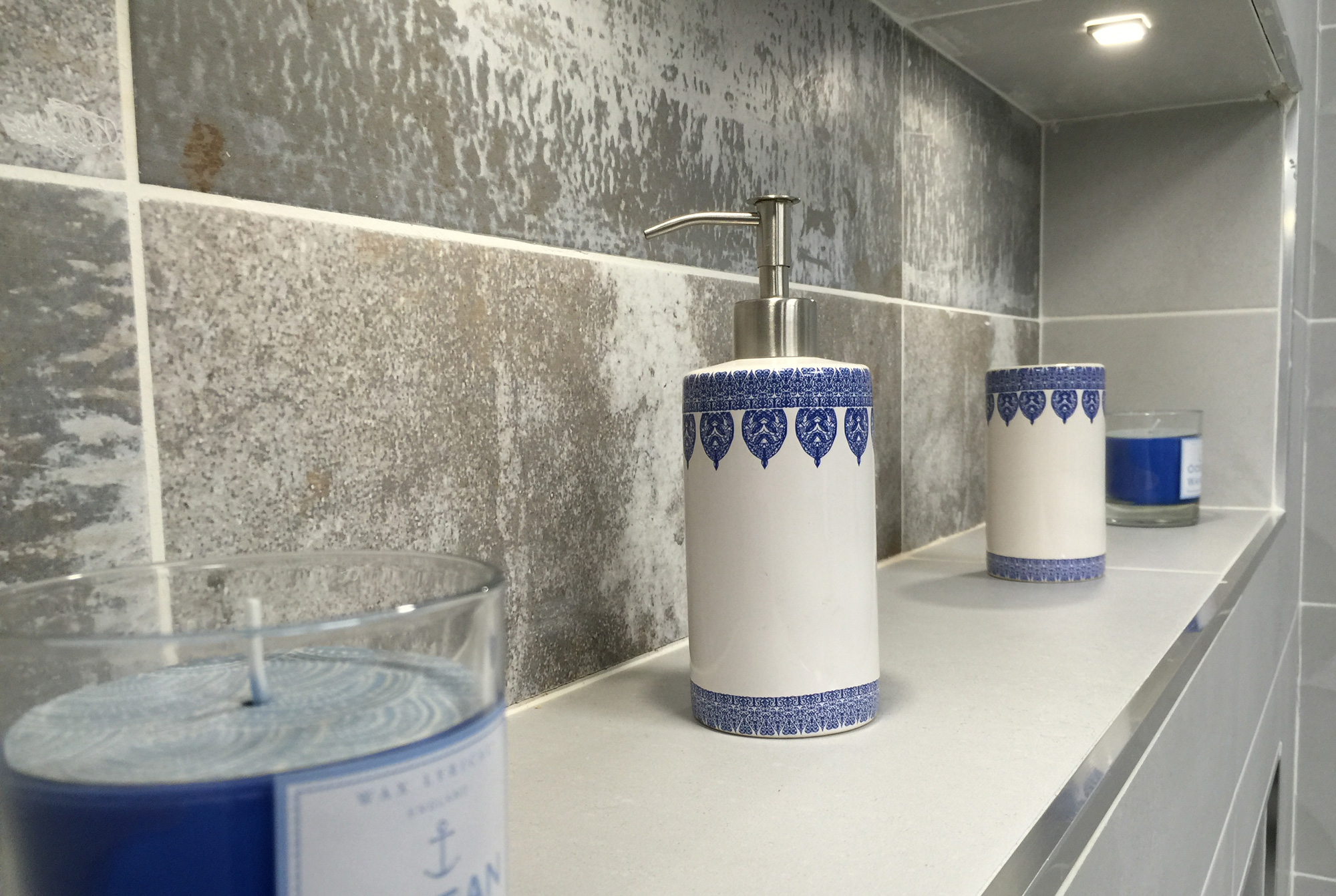 Most people will have a window and windowsill in their bathroom. Tiling this area can create a ledge for storing various items. If you take the same principle into account you can create your own ledges when tiling your room – creating recesses in your walls, bath panels and all manner of places.
Shelving
Shelving is one of the simplest ways of creating space in your bathroom and can be used just about anywhere, making the most of areas that would otherwise be forgotten – like above your door.
Shelving is cheap and easy to install, making it perfect for storing anything from shower gel to spare toilet rolls. One thing to note with this type of bathroom storage is to make sure what you're using is suitable for wet and damp environments as some products can become warped when damp.
Even if you have a small space to work with, don't worry. There are plenty of cloakroom products offering combined WC, basin and storage for a range of bathroom sizes. To find out more about designing the perfect cloakroom bathroom click here.