Can a Bathroom Add Value to Your Home?
Are you wondering if a bathroom can add value to your home? The answer is yes it can. In this blog, we outline our favourite ways of renovating a bathroom to add value.
When taking a peek around a new build property, or even your friend's freshly-renovated home, which are the rooms you most look forward to viewing?
We know the answer. It's the bathroom and the kitchen. They sell houses – it's a well-known fact.
With the time people spend in their bathrooms on the rise – and the room often acting as an escape from the stresses of modern life – it's not really any surprise. Bathrooms and kitchens create emotional connections with our souls.

So, will renovating your bathroom add value to your home?
Yes, updating, upgrading or adding to your existing bathroom space is one of the most impactful investments possible in your home. Nationwide Building Society agrees. In fact, they recently released data which suggests that renovating your bathroom can add 5% to the value of your home.
Even if you're not looking to sell in the immediate future, it's a good idea to know how different bathroom ideas will add value to your home. And if you are hoping to put your property on the market soon, then it's important that your bathroom fittings are looking their best.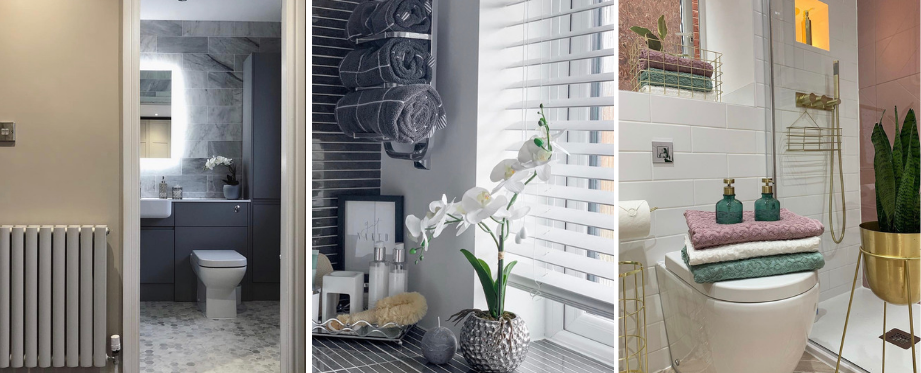 Top Things That Put People Off a Bathroom When Viewing a House
When viewing a home, there are a number of 'turn-offs' for potential buyers, particularly when it comes to a bathroom. We associate a bathroom with cleanliness, so they need to be fresh and hygienic-looking.
From our experience of being an established bathroom retailer, we've compiled a list of the biggest annoyances when viewing a bathroom.
They include:
Limescale on bathroom fittings
Cracked or dirty tiles
Leaking pipework
Outdated fittings
Not enough storage options
Insufficient heating output
Fixtures that don't match
Poor lines of grout in between tiles
How to Add Value to Your Home With These Contemporary Bathroom Updates
You can have as many bathroom ideas in the world, but unless you stick to a plan, you won't get value from your bathroom renovation.
When it comes to renovating an outdated bathroom, it's difficult for most people to know where the balance lies — how much should you spend? Is it worth paying a bit more for quality, or should you do things on the cheap to save on the upfront investment?
From years of helping people renovate their bathrooms, we've got first-hand knowledge.
Our advice? Good quality bathrooms should be both cost efficient and practical, as well as indulgent and long-lasting.
It's a balancing act.
But when working with a good bathroom retailer such as Easy Bathrooms, it's simple – our products and tiles will always be of the highest quality, and our prices will always remain affordable. It's a win-win.
Plus, we often have plenty of tiles, shower units and fittings available in our sale.

Add Good Quality Tiles
Nobody wants to see faded, cracked or dirty tiles – it's not appealing. So, when renovating your bathroom, tiles are one of the elements which have the biggest impact on the finished look and adding value.
It's a good idea to create a spa-style setting, by keeping the colours neutral, and adding luxurious finishes.
To imitate a tranquil retreat, for example, you can't go wrong with marble-effect tiles. They are beautifully opulent, creating a decadent, luxurious vibe.
But while real marble can be eye-wateringly expensive, lookalike tiles are much more affordable.
Pictured are our Anya marble-effect tiles. The light-grey marbling within the tile and the polished finish creates an Italian-chic, understated-luxury vibe – an absolutely timeless choice.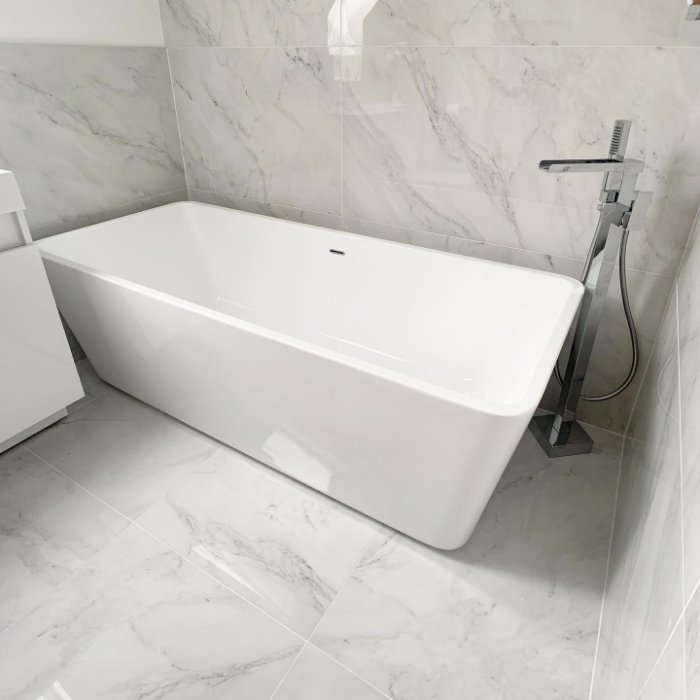 Another option for adding value to your bathroom and creating a timeless finish, is large-format tiles.
Bigger tiles ultimately result in fewer grout lines. Grout is known to distract the eye with its grid-like look and creates a busier feel.
So, using large-format tiles makes the eye believe that the wall or floor area is bigger than it actually is, creating an illusion where the room feels spacious.
Some of our most popular large-format tiles include:
These tiles are one of a kind. If you're looking for a contemporary bathroom renovation, these are the perfect pick.

With a wave textured finish, these tiles bring a fresh and organic look to the room.
Matching your grout colour to your tile colour is another way to produces a seamless, clean finish.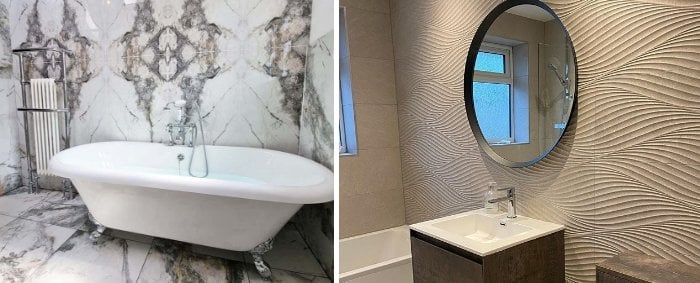 Add Value To Your Bathroom with Storage Units
Within a contemporary bathroom, there needs to be room for towels, toiletries, toilet roll and cleaning products. Vanity units and storage cabinets are a great way to inject both a sense of luxury and add storage options.
Burlington is a brand synonymous with British quality. Both stylish and practical, Burlington bathroom furniture is crafted to a superior standard.
We sell a range of Burlington furniture with multiple storage options.
Alternatively, our range of Richmond furniture offers more cost-effective quality traditional bathroom storage.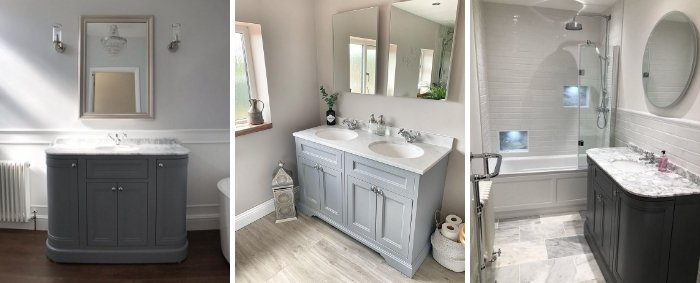 Bathroom Safety
Safety and accessibility also play an increasingly-important role in delivering bathroom renovation value. Choose a thermostatic shower, which reduces the risk of scalding; and install textured floor tiles, which minimise the possibility of slipping.
Heated Towel Rail
If you have a large bathroom or live in a poorly-insulated house, chances are you'll need to consider a few factors to keep your bathroom warm, especially in winter. This blog outlines the six key things you need to think about before buying a bathroom radiator.
Bathroom Lights That are Sure to Add Value
Bad bathroom lights have a damaging impact on the feel of a room. By mixing up the types of lighting, including general fixtures and mood lighting, you can add dimension to the atmosphere of the bathroom and add value.
Go for a bathroom chandelier for a touch of luxury and a statement finish. Remember, bathroom lights require an IP rating, to deem them safe for use in wet areas. Luxury bathroom lighting is sure to add value to your home.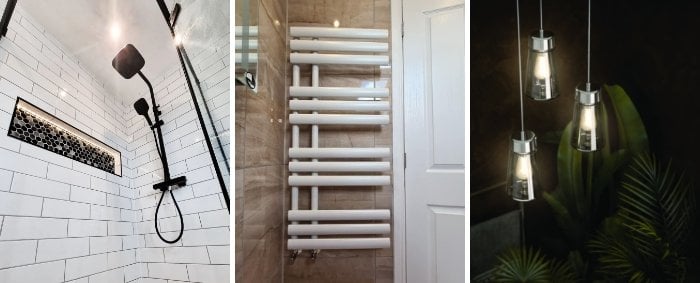 Use a Professional to Add Bathroom Value
Use a professional to do the plumbing and tiling. After all, clean lines of grout make a difference to the quality of the finish - which ultimately impacts on the value your bathroom will add to your home.
However, research shows that bathroom fitters are one of the hardest tradespeople to find.
Our nationwide showrooms can recommend trusted traders who are based locally to you. Also gain expert advice from our designers at Easy Bathrooms. We have teams who can help you iron out any flaws in your plan – book your appointment at any of our bathroom stores.