March 14th 2019
3 min read
Customer Bathroom: Calypso Furniture
We are delighted to let you in on a little secret.
We've been working on a collaboration that we're really excited about, and that we can finally announce – the home of Maria Fowler, her partner Kelvin, and their little girl, Evie.

A 1970s detached property in South Derbyshire, the family bought their forever home in August, 2018.
But the former house of an elderly lady, it required, let's say, a little – a lot of – TLC.
So, Maria and Kelvin commenced their project by stripping back the property to its bare bones and creating a double extension – to the back and front of the house – a remodel and a full refurbishment; enough to make us tired just thinking about it!
And while all the preparatory work was underway, the dream team also started thinking about bathroom choices – which led them to our Derby showroom.
With three bathrooms – a master bathroom, ensuite and a WC – we were excited to help them on their journey.
They spent plenty of time thinking about each bathroom individually, and how they would like each to look. Our team created 3D plans for each of the rooms.
Five months down the line, and the couple's first bathroom project – the ensuite – is finally complete.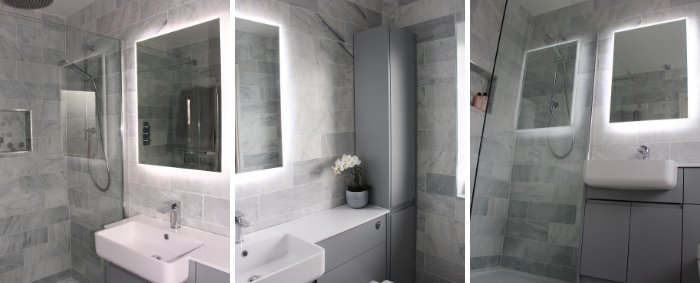 Delighted with their new haven, they were happy for us to share the details about which products they've gone for:
Calypso furniture
As well as stocking our own-branded bathroom products, we also sell popular British brands, such as Calypso – on display in our showrooms.
Maria chose the stunning 'Selter' fitted bathroom furniture units, which are designed with a minimalist and contemporary look in mind. Visit your nearest showroom to pick up a brochure.

Sleek shower tray
Continuing the minimalist, chic vibe, the couple went for our Elle shower tray – the ultimate slim, sleek solution. At only 25mm high, the shower tray is fitted flush to the floor, giving all the benefits of a wetroom but without the costly installation.

Shower head
Creating a svelte look, the Vade shower head is truly elegant, comprising a surface area of 250mm x 250mm and an ultra-slim depth of 2mm. Highly engineered, this is a beautiful addition to the modern bathroom.

Toilet
Last, but not least, is our Alfrick back-to-wall toilet pan. With a soft-close seat, it provides a serene calm feeling; whilst the quick-release seat offers easy cleaning.
We've also supplied their designer Islington radiators to create a clean, sleek look in every room of their home, in addition to our beautiful Duke Oak wood-effect tiles throughout the open-plan kitchen and living room area.
Talking about the project so far, Maria said: "I'm more creative with interiors than Kelvin, so even though I had a vision of how it would look, it was hard for him to imagine the finished result. Now he has seen it he is overwhelmed with the final result. I am so pleased everything has gone to plan and the ensuite is definitely my favourite room so far!"

The next bathroom on the family's 'hit-list' is their downstairs WC – for which they've chosen a beautiful Burlington toilet and sink.
As the renovations progress, we'll keep you up-to-date. In the meantime, give us a follow on Instagram @easybathrooms, as well as Maria, Kelvin and Evie: @project_in_a_village.