December 20th 2022
2 min read
Customer Bathroom: Modern Monochrome
As featured in 25 Beautiful Homes
This bathroom, in the home of Karen and Mark Friend, was once a guest bedroom and was a decent three-by-three metre size with one large window. The space was a blank canvas and Karen designed the interior look while Mark, who's a cabinet maker, made some of the bespoke elements.

Karen is a committed bath person, while Mark, at 6'6 tall, is definitely a shower person, so their new bathroom had to work practically as well as aesthetically, to suit them both.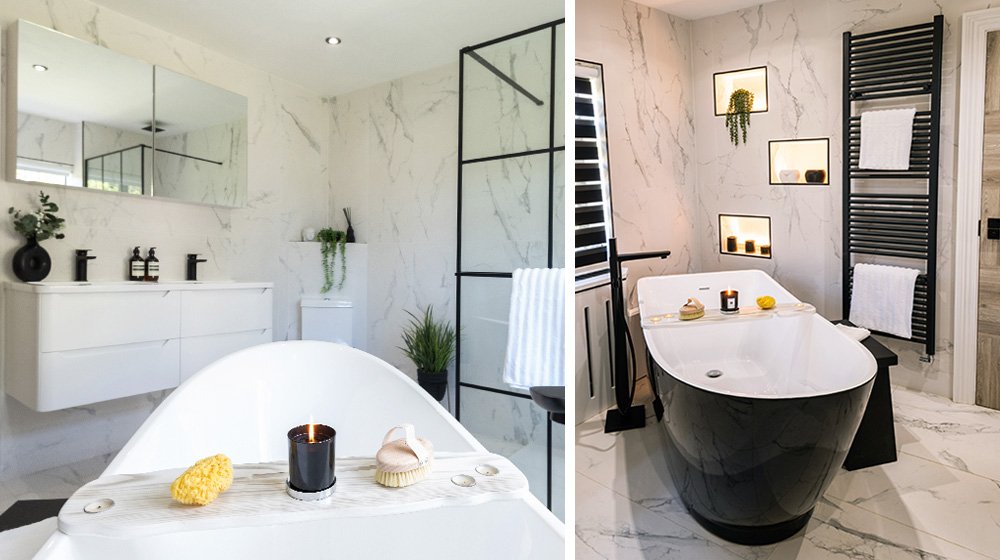 "Although we live on a farm, and the rest of the house will be decorated in a modern-meets-traditional style, we decided a really contemporary, airy feel for this bathroom was the best approach," explains Karen. "We wanted a crisp, monochrome scheme which would make the most of the available natural light".
"Stage one was to assess the space and decide what we wanted to fit into it, namely a freestanding bath, a big shower, a toilet and a vanity unit. Stage 2 was how to achieve this in terms of plumbing and available budget. Plumbing already existed along the external wall, so the shower and toilet were placed in proximity to this, while the bath was angled into the room to create an attractive aesthetic."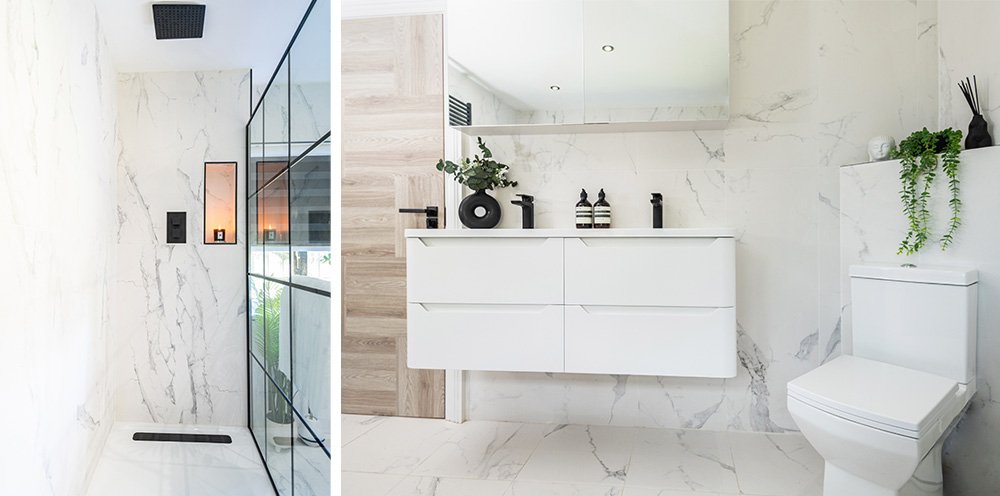 The couple chose timeless marble-look tiles and a black bathtub, for a modern, clean style and black accents for fixtures, fittings, shower and window frames. Mark made a unit which sits above the sink, with a de-mister mirror and an integrated hardwired fitting for electric toothbrushes, to avoid unnecessary clutter. A clever insert in the wall behind the bath is in fact a laundry shoot.
Karen chose our Black Eton Freestanding Bath, our Kelto White Marble Gloss Tiles and our Zena Matt Black Taps to complete her look.
To create your own dream bathroom, book an appointment at your nearest Easy Bathrooms & Tiles showroom.