August 6th 2019
3 min read
Customer Bathroom: Shades of Grey
We were delighted when Instagrammer, Becky - @BeckyHomeSweetHomeAccount - reached out to us.
Becky is a very active Instagrammer who shares insights into her life and her home. So, when she decided that she wanted to switch-up her bathroom, she approached us to work together.
Her bathroom wasn't actually very old – it simply just didn't work for her anymore. She realised that, for practicality reasons, she wanted to remove the bath and open up the space with a walk-in shower.
We got our heads together to discuss the different styles and options that she could go for. She wanted a look that was modern and clean, but had personality too, with elements of current trends.
And, we think, we helped her achieve exactly that!
Becky knew that she wanted to create a feature wall in her bathroom, so we suggested our Volta grey-stone mosaic tiles.
In a hexagonal shape, the tiles come in a variety of patterns and combinations, ensuring that no two tiles look the same – it's the perfect addition for creating an impact.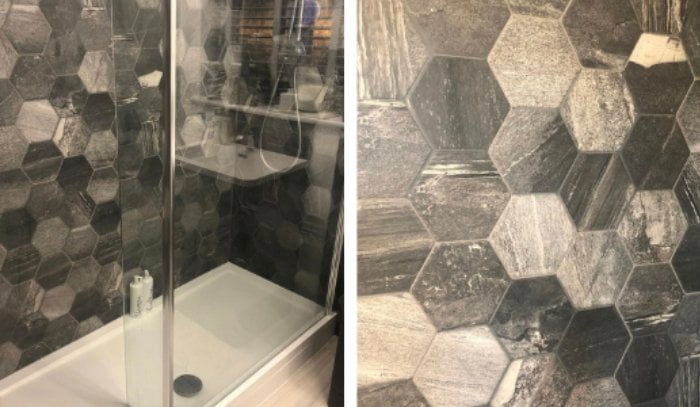 The result is a new wall, which is about as on-trend and stylish as you could get.
A growing number of people are ditching the bath and opting for a shower – particularly to save time.
This was certainly the case for Becky. In fact, adding a shower was one of the biggest influences on her decision to renovate the bathroom.
She chose her favourite rectangular shower enclosure – the walk-in Rivar enclosure, paired with a slim shower tray, to create simple and clean lines, giving a spacious feel alongside easy access.
Next up, Becky wanted to add different storage options to her bathroom. Simple updates – like adding space to store all of the products that pile up in a bathroom – are the perfect way to create a relaxing sanctuary.
We inspired Becky with our 'Ellis' furniture range – a modern selection of vanity units and cabinets, which have clean and contemporary curves.
She went for the Ellis wall-hung tall cabinet in charcoal grey – the ideal storage solution. With two cupboard doors, it offers plenty of space, while the soft-close doors add to the relaxing feel of her bathroom.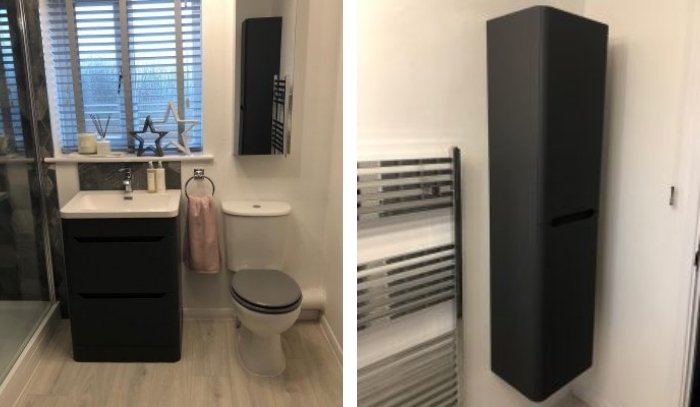 She coordinated her vanity unit to the tall cabinet, too. Opting for the 600mm floor-standing Ellis vanity unit, she is able to effortlessly hide away any unsightly pipework, whilst also coming in perfectly for tucking away bathroom essentials, maintaining a clutter-free bathroom.
Talking about her renovation experience, Becky said:
"We had a fab experience with Easy Bathrooms, from start to finish. Lauren was amazing and couldn't be more helpful, answering all my questions – and there were a lot!
"The products are fantastic, we are so impressed with the quality of the bathroom and we would 100% recommend Easy Bathrooms."
And when we asked her to share one piece of advice, this is what she said:
"It takes time, so really think about what you want from the space and what will work for your family. A lot of people told us we were mad to get rid of our bath, but we love it. It's the best decision we made."
As you can see, when it comes to renovating your bathroom, you have to do what works for you. But if you're lacking in inspiration, then why not gain some advice from our trusted bathroom designers?
Our Easy Bathrooms & tiles showrooms are nationwide – find your closest store today and book your free home-measure or 3D design appointment.