August 26th 2019
4 min read
DIY Bathroom Renovation: When You Should Use a Professional
Imagine the scenario: you've spent a few thousand pounds on buying new bathroom fittings and furniture. It may be a little more than you wanted to outlay, but you ended up purchasing your dream bathroom, and you couldn't be happier with your choices.
£550 on an LED Bluetooth mirror
£500 on a new double-ended bath
£600 on a traditional vanity unit
£750 on stunning marble-effect bathroom flooring
The day arrives when your suite is delivered. Over the next few days, you begin to install the products yourself in order to pare back some of the money you spent.

Only, you're not entirely sure how to wire the mirror properly. You don't really know how to carry out bathroom electric testing. You're worried that the stunning marble-effect tiles might not look so stunning once you've finished grouting them. And let's not talk about the stress you feel about waterproofing the bath.
Of course, this is an extreme situation. There's always YouTube videos to follow and friends you can ask for help. But it poses the question: should you complete a DIY bathroom renovation, or take advantage of professional bathroom fitter?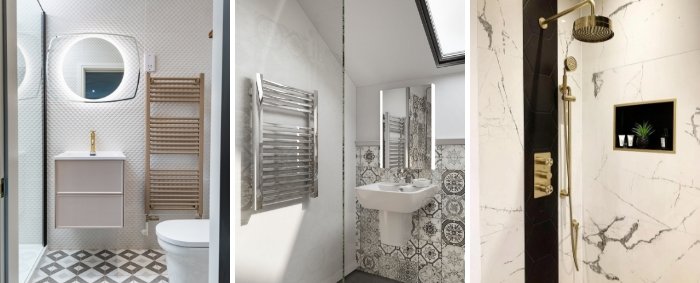 Here are the pros and cons of each…
DIY Bathroom Renovation

PROS:
The main benefit of a DIY bathroom renovation is, clearly, to save money. In fact, Which? estimated that fitting your own bathroom can save you 70% of the overall cost.
If you have some level of expertise, and can call in favours from handy friends, then it can definitely be a successful and budget-friendly way of renovating your bathroom.
CONS:
Sometimes, DIY can lead to disaster. The £150 you might save on installing a bath yourself, for example, could be heavily outweighed by any damage caused by leaks. The £300 you recoup on tiling mightn't be worth it if you end up cracking them and having to fork out another £750. If you're looking for bathroom value, it's clearly not always the best option.
Another downside to DIY, is the potential for accidents and injuries. Even simple jobs such as cutting MDF require the right personal protection equipment (PPE).
Professional Bathroom Fitting
PROS:
Bear in mind that tradespeople are professionals who have learnt their trade over a long period of time – and their expertise is often worth paying for. Any work carried out by a professional bathroom fitter will be covered by their trade insurance, meaning that if any leaks were to occur, you wouldn't have to cough up any additional money.

When should you DIY?
If you wish to give DIY a go, it's perhaps a good idea to weigh up which jobs to tackle yourself and which you should leave to the professionals.
Tiling is usually a skill that most DIY'ers choose to take on themselves. Start with a clean, dry and level surface and begin with a small area. The key to ensuring the DIY job looks great, is clean lines of grout. Decide what size grout lines you want and keep to the same mm throughout.
When should you use a professional?
If you want bathroom value, then our advice is to leave plumbing and electrics to qualified tradespeople. Toilet installations, bathtub fittings, shower enclosures and electric testing are all important elements which require a certain level of safety training and experience.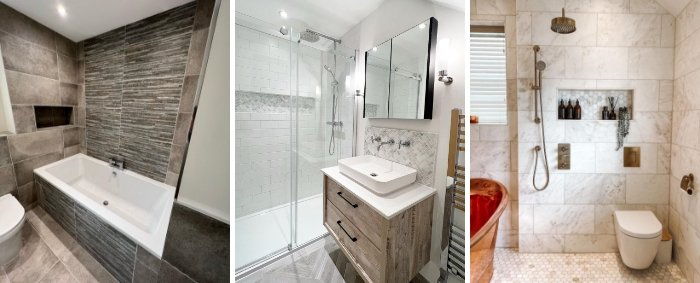 How much does professional bathroom installation cost?
The sum to complete a full bathroom installation can vary. Bathroom installers may quote between £100-£150 for small jobs such as fitting a shower or a sink, while tiling a large bathroom could cost £1,000.
Costs will depend upon the complexity of the job, including the size and shape of your bathroom and if pipework needs to be moved. It can also increase or decrease across different locations – bathroom fitting in Leeds is likely to be different from bathroom fitting costs in Surrey, for example.
It may cost you more for a professional installation, but it will provide you with overall bathroom value, providing a quality finish which will last for years to come.
At Easy Bathrooms, we work with some of the UK's most trusted and experienced tradespeople. Our bathroom and tile showrooms across the UK are able to recommend bathroom fitting professionals, from Cheshire to Plymouth.
If you are undertaking a DIY project, take advantage of our online bathroom planner tool, or book an appointment in-store for your free 3D design with our expert bathroom teams.