Easy Bathrooms Set to Support UK's Self-Builders
As a leading bathroom and tile supplier to self-builders, we have taken a presence at the UK's only permanent exhibition centre – the National Self Build and Renovation Centre (NSBRC), in Swindon, five minutes from our Swindon bathroom store.
We have signed up to display our bathroom products and share our expertise at the centre – which is open six days a week – for two years.
As the second bathroom brand to join NSBRC, we are set to support the 20,000 annual visitors who are undertaking a self-build or renovation project.
With the UK's housing shortage often at the heart of the political and economic agendas, self-build is becoming an increasingly-popular way for people to move up the property ladder – particularly as it is 25% cheaper than other types of new builds.
This form of development is also being popularised by television shows, such as Kevin McCloud's 'The Street' – which documents the rise of Graven Hill; the UK's largest self-build project.
Talking about our presence at the show, Rob Holroyd, our head of contracts said: "We are delighted to be supporting NSBRC and their visitors. Self-build often makes for highly-designed, high-quality properties, and they are often more likely to try new products and ideas, than new house developers.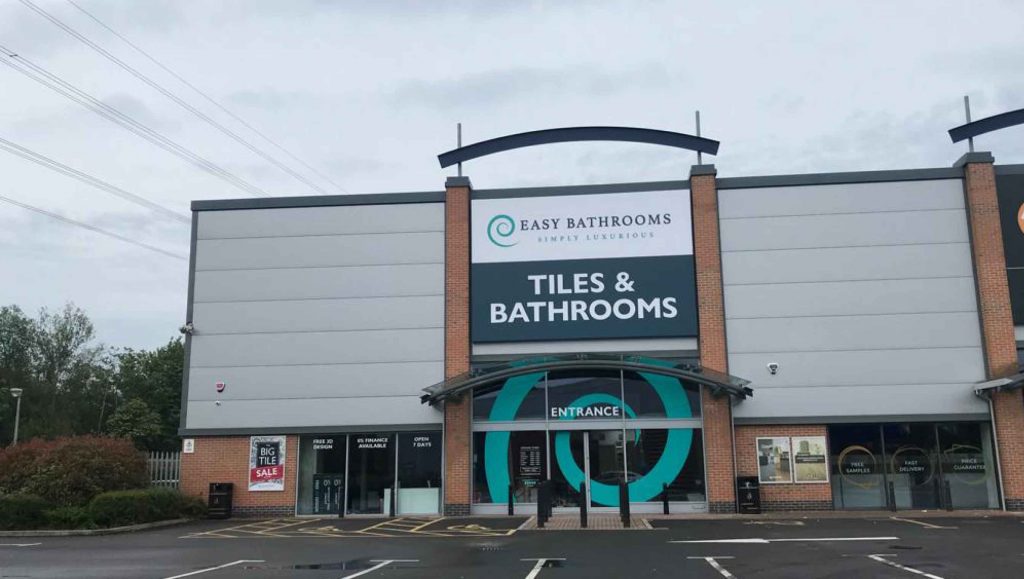 "We are therefore very passionate about supporting self-builders. It's a great opportunity for us to help tackle the UK's housing crisis, as well as providing expert advice, education and inspiration to visitors."
We are permanently based at stand 115, with a selection of products – including our Glacier marble-effect tiles, our 1200mm Stonehouse vanity unit in white, our frosted Oxford walk-in shower screen, Santino Hollywood mirror and our stud-detailed Glendale freestanding bath in black – on show to inspire attendees.
"Of course, on event-days, our stand will be manned full-time, with advisors on hand to talk attendees through product choices," continued Rob. "But we are also in a unique position, in that we opened a brand-new Easy Bathrooms & tiles showroom in Swindon at the start of June – just two miles away from the centre. Visitors will therefore be able to see the full range of products and get a free 3D design in-store, just after visiting us at NSBRC."
The next NSBRC event is being held in October. Alternatively, make an appointment at our Swindon bathroom store today, which is open seven days a week, with free parking available. 0% finance is also available.