August 23rd 2019
3 min read
Glasgow Easy Bathrooms and Tile Showroom Now Open
Glasgow, we've arrived! We're super excited to announce that our first Easy Bathrooms and tiles store outside of England is now open.
After a few weeks of renovations, we finally flung open the doors to Easy Bathrooms Glasgow - our 470-display, bathroom and tile showroom - on 4th May.
It's the former showroom of Better Bathrooms Glasgow – which went into administration earlier this year. The site is 20,000 sq ft, over two floors, making it Scotland's largest and most inspirational, independent bathroom showroom and tile store. It is our 32nd bathrooms and tile shop nationwide, with more on the way.
Why is Easy Bathrooms the best Glasgow bathroom showroom?
With a full team of six staff – who are seasoned pros in the bathroom industry – and thousands of products to browse, it's the perfect place to find tips, advice and inspiration for your bathroom design ideas.
Our award-winning ArtiCAD design software is also available, providing customers with free 3D designs of their bathrooms, so they can plan exactly how they want their bathroom to look, function and flow.
It boasts our most on-trend products, from our current spring-summer brochure. With a dedicated tile showroom in Glasgow, tile options include some of 2019's most interior design-led ranges; such as wood-effect, marble-effect, patterned, textured and large-format – which can be fitted in all rooms of the home.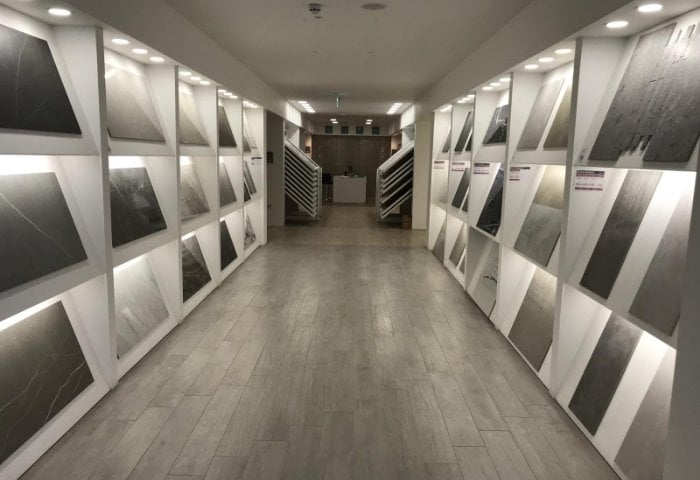 As Glasgow's number-one tile showroom, the team of course all have their favourite tiles.

Graham Boyle, our Glasgow bathroom showroom manager, prefers the marble-effect trend. If he had to choose just one range of our tiles, it would be our Fantasia 600mm x 1200mm large format, marble-effect tiles in gloss.
The stunning gloss porcelain tile features multiple stone shades and hints of gold - adding an instant touch of luxury. It really is a showstopper.
James Stone, advisor at our bathroom showroom in Glasgow, has his own most-loved choice. He thinks the textured tile trend is one of the best styles for 2019.
He often advises clients about the beauty of mixing different textures, including our Forge Perla textured wall tiles, alongside textured-look floor tiles.
The showroom also has hundreds of bathroom product choices, including vanity units, mirrors, designer radiators and towel rails, walk-in-showers and freestanding baths, with fully-fitted displays to browse, and an area for bathroom accessories - including on-trend matt black taps.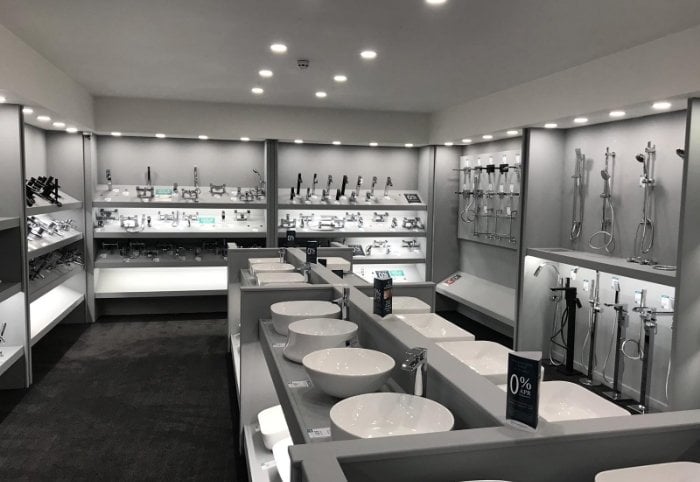 We also have a number of leading bathroom brands available at our bathroom showroom in Glasgow. If you're looking for Burlington Bathroom products in Glasgow, we have the perfect range to browse.
We offer a range of Burlington freestanding double-integrated basin vanity units in a selection of classic, chic colours. Also on display are the classic Burlington toilets. The traditional toilet and bidet combination is the ultimate indication of elegance and timelessness. With a style that transcends fashion, Burlington's period-style toilets will add an air of class to your traditional bathroom.
If you're in need of some advice about which Burlington furniture to choose, why not book an appointment at our Glasgow bathroom showroom? Our advisors will be able to help you plan your new space and choose the best products.
The showroom also showcases Calypso's stunning fitted, modular bathroom furniture. Available in different sizes, styles and colours, we have a beautiful range of modern & traditional bathroom furniture from one of the UK's leading bathroom retail suppliers.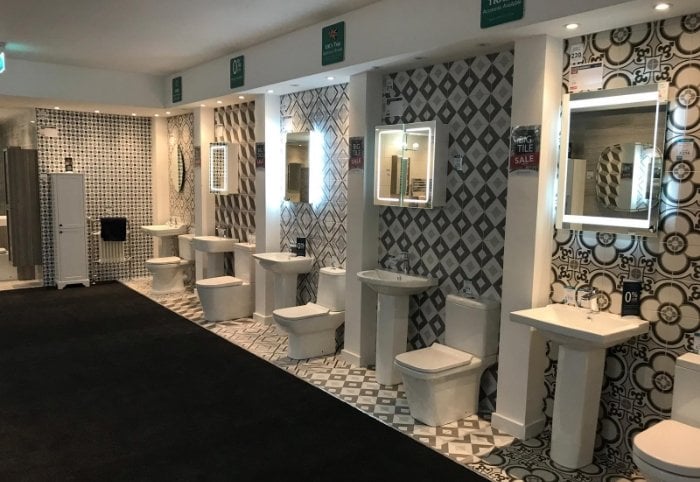 0% finance is available in-store, for those who want to spread the cost of their new bathroom.
Graham Boyle, manager of the store, said: "We couldn't be happier with the way the showroom has been fitted out – it has an instant impact on people when they walk in, and we're so proud to show-off all of our newest products. It means we now have Glasgow's largest, most inspirational showroom, for both home owners and trade customers – and we welcome them to come and have a look around."
The store, on Seaward Street, G41 1HJ, is now open seven days a week, with free parking available.
Trade customers are also welcome to open an account in-store. If you're looking for excellent quality products at a great price, visit our store to chat to our helpful team about an Easy Bathrooms trade account.
Book your free 3D design or home measuring appointment now.