How to Add Colour to the Bathroom
Bathrooms are a great space to experiment with colour, pattern and texture as the smaller space lends itself to having fun. In fact, bathrooms have so much potential, that there is no reason why you shouldn't pick a bold and dynamic colour palette for the walls, tiles, or even a painted freestanding bath. In fact, we have just launched a painting service on our freestanding baths, you can find out more here.

However, before you start thinking about the colour you'd like to use, the first thing to consider is how you or your family are going to use the bathroom space so that the colour reflects what you are setting out to achieve and doesn't hinder the final look. Is the bathroom in question a downstairs powder room, an en suite, busy family bathroom or a sanctuary-like 'spathroom'?

Lighting will also play an important part. Often bathrooms can have quite harsh lighting, though we are seeing a trend for several lighting options that can soften the aesthetics and can work in harmony with colour.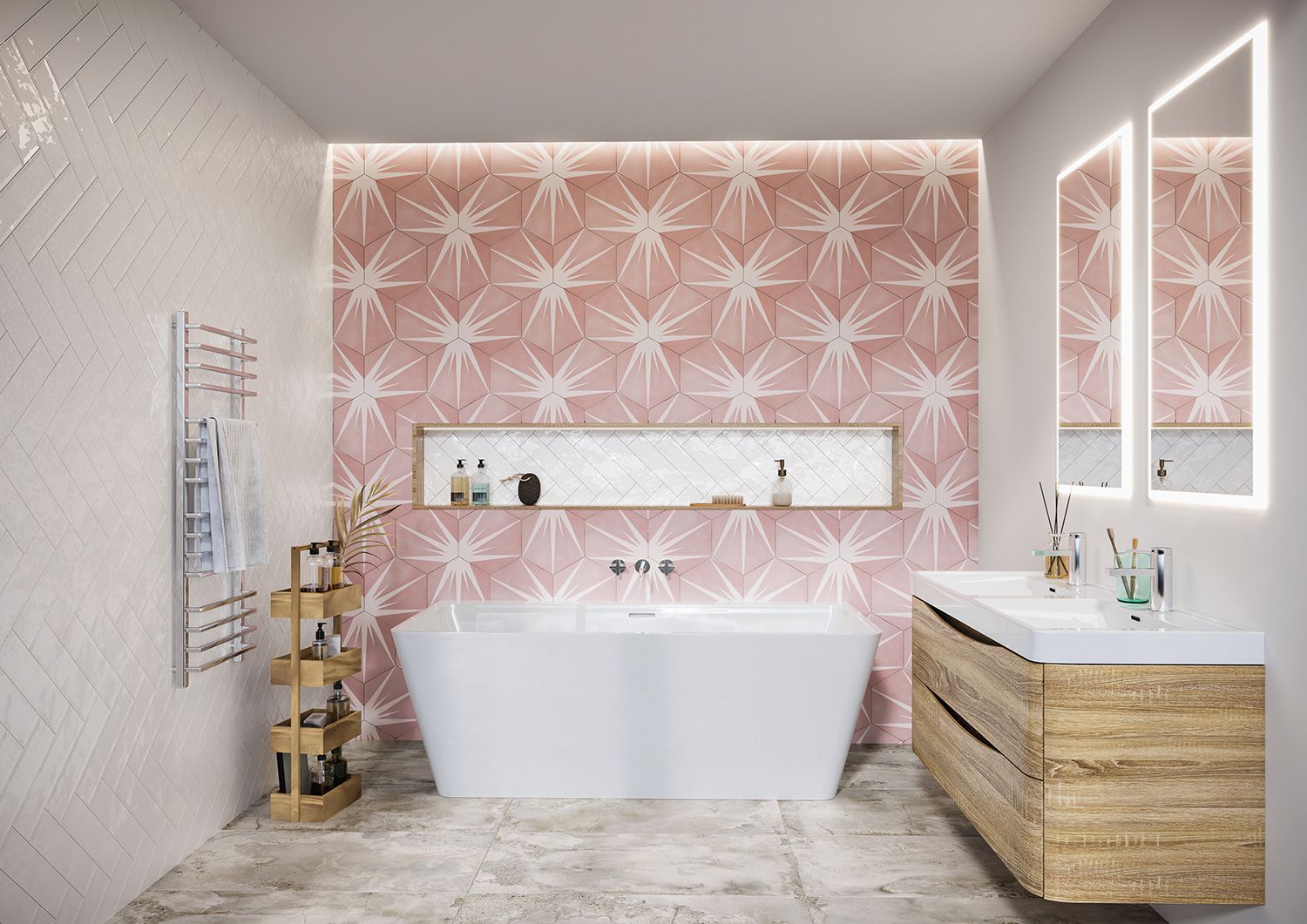 How can I achieve colour in my bathroom?
There are several products that lend themselves to colour: tiles, ceramics, paint, and vanity units. You can either stick to the mantra of opposites attract so for example, plain tiles and colourful fixtures or bold tiles and pared-back accessories. Or you can be brave and go for colourful everything! If you do decide on this option, carefully consider the colour wheel if you are wanting to inject several different colours as this will make sure they work in harmony with each other.

I love the idea of being brave. What are my options?
While we may have previously dismissed retro coloured bathroom suites as a deal breaker when it came to bathrooms, things have changed, and coloured ceramics have re-emerged as a design-led bathroom product.
We sell a selection of both traditional and contemporary coloured ceramics, depending on the period and style you are going for. The Burlington range in either Confetti Pink or Alaska Blue marries colour with traditional style, though both shades are a rather contemporary twist.

If modern is more of your style, then the new Micheli range, developed in partnership with renowned Italian Architect Simone Micheli could be the one. The new collection comprises of a wall hung basin, toilet and two bidet options, each of which can be purchased in four shades of black, matt navy, matt grey and white. This range is especially great for those of you who want to add colour and be eco-conscious as the bidet actually saves water. While the bidet itself uses water, it uses significantly less than required in the production of even recycled toilet paper — and a fraction of the amount consumed by virgin pulp.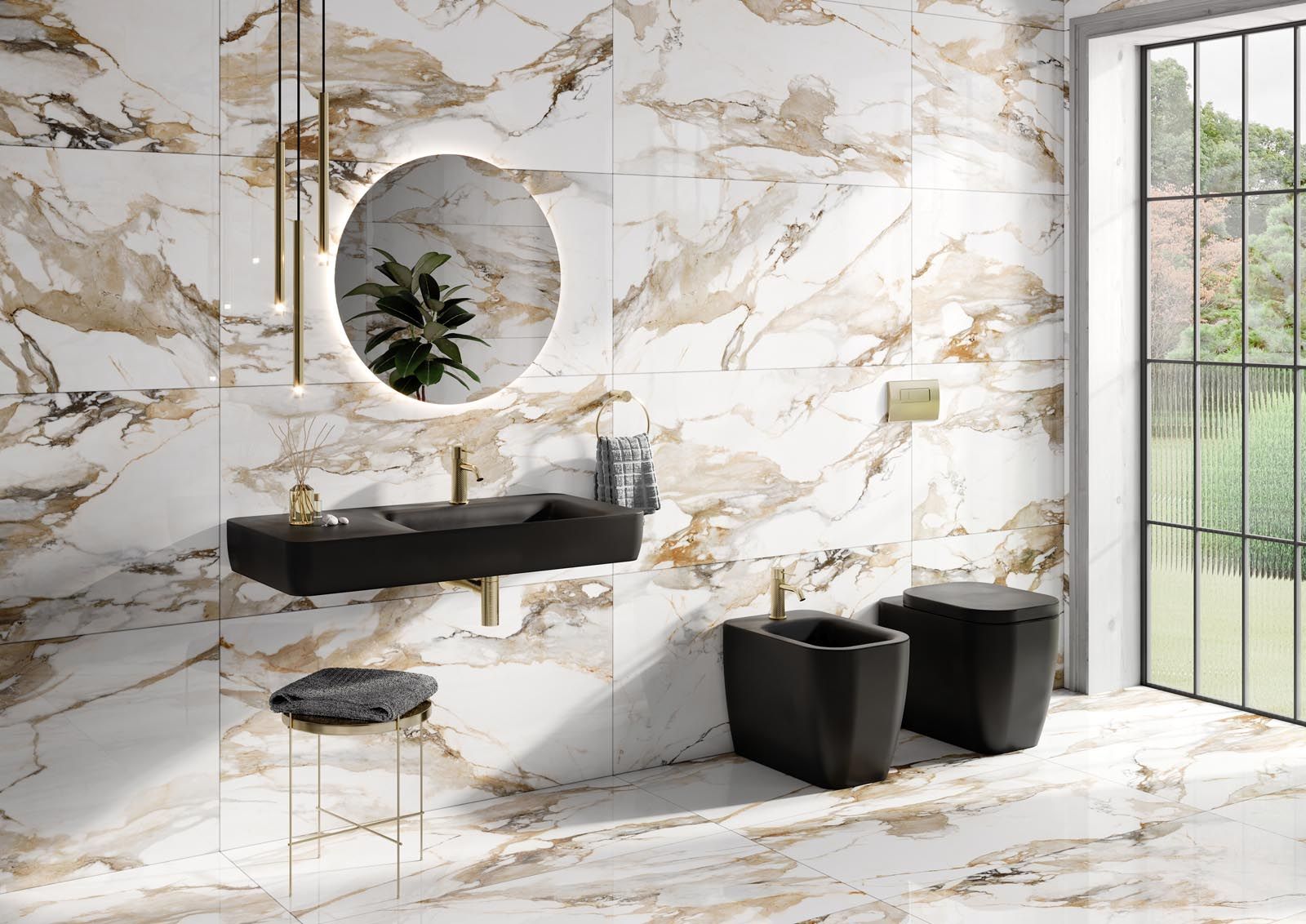 Do I have to use bright colours for my bathroom to be colourful?
Not at all! In fact, colour can be added in subtle ways including using metallics. You have probably noticed that brass and rose gold hues are dominating interiors at the moment and bathrooms are no different. If this is a route you'd like to go down, then the Moray taps are a great choice. Not only do they add a touch of glamour and colour but the textured surface is certainly stylish.
I want a white bathroom suite; how can I still add colour?
Look no further than tiles. We sell a wide selection of coloured and patterned tiles, all of which look great in a bathroom. On-trend colours are forest greens and moody blues, which can be brought to life using out Navajo tile in blue or green metro tile. These can be used to create a brick life effect or create geometric patterns such as chevrons for something a little different.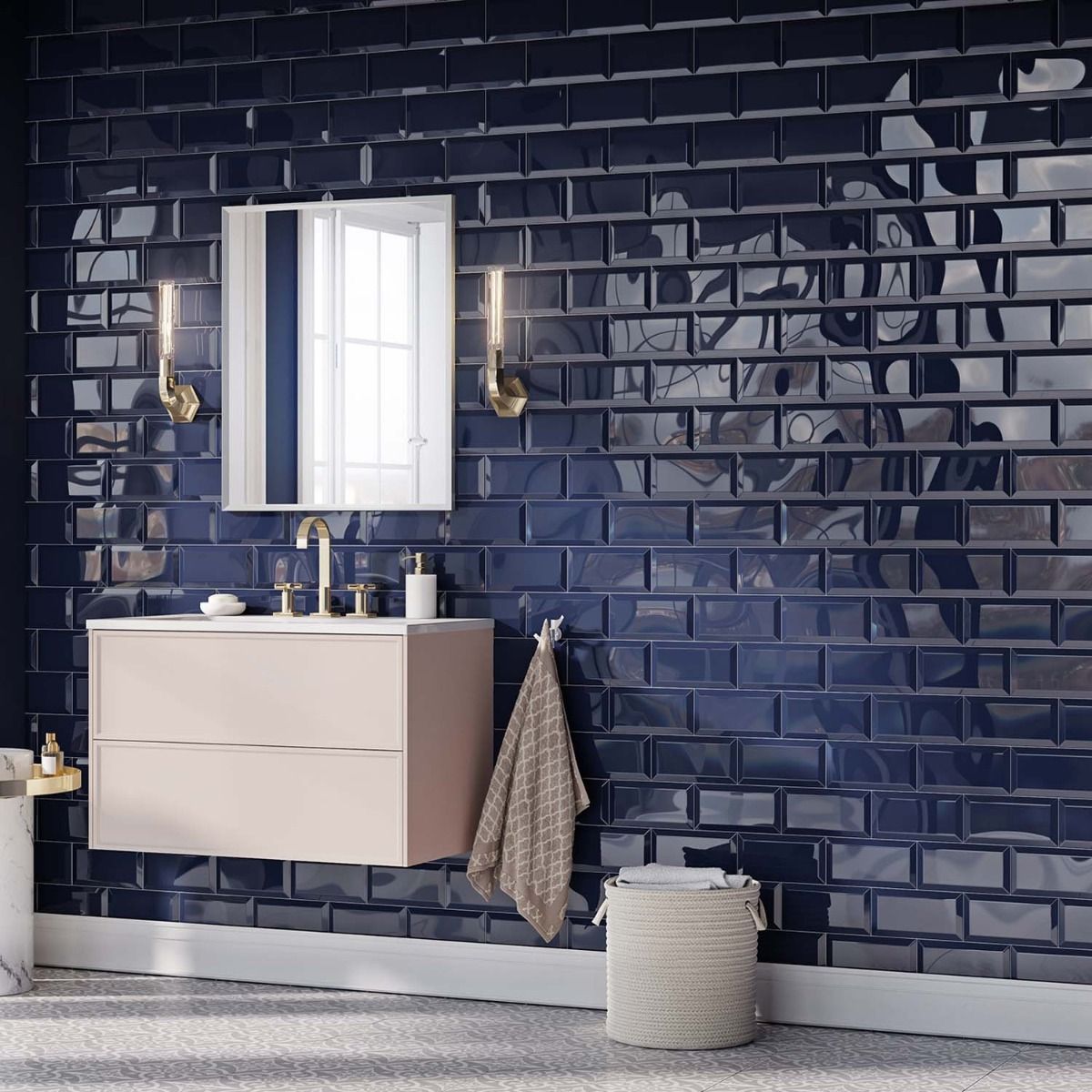 If you are wanting colour and pattern, the Lotus range of tiles could be the one for you. We've seen these used brilliantly in the shower to create a focal point that instantly grabs you when you or your guests walk into your bathroom. Black matt accessories can finish off the look.
Finally, we have to mention the Luso rose tiles. These work great with white or one colour combination that is fast turning into a classic is pink and green. Green and pink are complimentary as they sit opposite each other on the traditional colour wheel. Pair with white and/or black can be used alongside pink and green to create a fresher or more bold, overall look.