January 19th 2016
4 min read
How to Make an Awkward Bathroom Space Work for You
Many of us have bathrooms that are an awkward shape. Sloping ceilings, alcoves and curved or angled walls are often a problem especially in older properties. The best thing to do, unless you want to start knocking walls down is to work with the shape you have and actually plan your bathroom to emphasise these factors thus displaying the charm and character of the room. A large alcove could perhaps be used as a shower enclosure or a small alcove could be used to house a vanity unit with shelves above, giving you much needed storage space.
Careful planning is needed to make the most of the space you have available:
Measure up and note the position of the existing services, windows and doors – do you need to change the location of any of them?
Decide which furniture, fixtures and fittings you want and where you want to put them.
In awkwardly shaped bathrooms you have to choose your furniture carefully as it can be difficult to find the perfect suite. Baths, basins, toilets and shower enclosures are usually designed to be fitted on straight walls so if your bathroom is an awkward shape you may find it difficult to use a conventional layout. At Easy Bathrooms we have an extensive range of bathroom furniture to choose from no matter what size or shape your bathroom may be. Have a look at our brochure or contact one of our fully trained advisors who are always happy to help you select the perfect bathroom for you.
Bathtubs
When it comes to baths, you've got two main choices – a freestanding bath or a built in bath.
Built in baths are very popular as they will fit any size bathroom, even awkwardly shaped ones. If space is a real concern, they can be easily combined with a shower to give you the best of both worlds. Built in baths are available in a range of lengths, depths and sizes but there are usually a set range of standard sizes to choose from. As well as the plain bath, you can get corner baths which work very well in an awkward shaped bathroom and can make the entire room seem more spacious and airy. It also leaves more wall space for other fixtures and is an ideal choice for installing under a window.
A freestanding bath can be used as the focal point of a bathroom but does need adequate space all around them. However, this doesn't mean that it is not possible to have one in a bathroom that is unusually shaped. To get the most from your freestanding bath, it should be placed close to the centre of the room. It should not be placed in a corner or else it will be very difficult to clean around the bath adequately.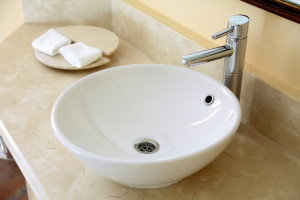 Basins

If your bathroom is narrow, using an existing alcove to house your basin will mean that you can opt for a deeper basin than the width of your room would otherwise allow. You could choose a countertop which has either an inset or semi-recessed basin as part of it or a vanity unit which is not only stylish but incorporates storage.
A tall mirror will add emphasis to your new alcove and add some task lighting to banish any shadow. If space is really tight however, or there isn't too much straight wall space, then a corner basin is the answer.
Toilets
In awkwardly shaped bathrooms you will need a toilet that is both stylish and reasonably compact. Either a wall hung or back to wall toilet would probably be best, as these designs feature concealed cisterns which are hidden behind the wall, thus making the room feel bigger than it actually is. Once again though, if space is really in short supply then a corner toilet is the best choice.
Showers
Most of us want some kind of shower in our bathrooms, whether it's an over the bath shower or a separate shower cubicle. Easy Bathrooms has an extensive range of showers and shower enclosures in different shapes and sizes to ensure that you can make the most of your available space. If your bathroom has quite a large alcove it may be possible to install a shower enclosure in this space.
When space is at a premium, a wet room – a fully tiled shower room that doesn't have a screen or shower tray - is an option worth considering.