August 26th 2019
5 min read
How To Renovate a Small Bathroom on a Budget
A small bathroom and a small budget often leave home owners feeling dismayed - or even a little reluctant - at the idea of modernising their bathroom. But if you want to add value to your home, you'll want to renovate it.

The two mains rooms which require your own stamp – unless it's a brand-new property – are usually the kitchen and the bathroom.
It's often a tight-rope balance, between wanting to achieve something stylish, sticking to a financial plan and future-proofing your home for potential children.
The question is, how can you renovate a bathroom without a big budget? And how much does a small bathroom renovation actually cost?
In this blog, we present some affordable bathroom design ideas for renovating a small bathroom on a budget.

How much does a small bathroom renovation cost?
A basic bathroom renovation in the UK is likely to cost between £500-£2,000. By following our simple tips, you will be able to keep your budget and costs in check - without breaking the bank.
What is the best small bathroom flooring on a budget?
Floor tiles are without a doubt, the best option for bathroom flooring.

They are waterproof, stylish and cost-effective. Porcelain tiles in particular, include countless style choices, a good resale value, work well with radiators and clean easily - perfect for renovating a small bathroom.
Our advice is to choose inexpensive porcelain tiles that will last the test of time.

Our Honor tiles are an affordable bathroom flooring choice. Creating simplicity with a neutral shade, the tiles suit a wide range of bathroom styles. The matte finish also offers anti-slip properties, helping you to future-proof your small bathroom space.
The Honor range of textured tiles can also be fitted on the walls if you want to achieve a strong, cohesive look.
Metro and brick effect tiles are another affordable wall tile option. Available in numerous colours, you are able to choose a statement or a simple finish. Shop our range of metro tiles.
To save extra money on your bathroom tiling, consider limiting the amount of wall tiles and focus on high-traffic areas, such as inside the shower or as a feature wall behind the sink/vanity unit. This is a great way to renovate your small bathroom to a high standard, while sticking to a budget.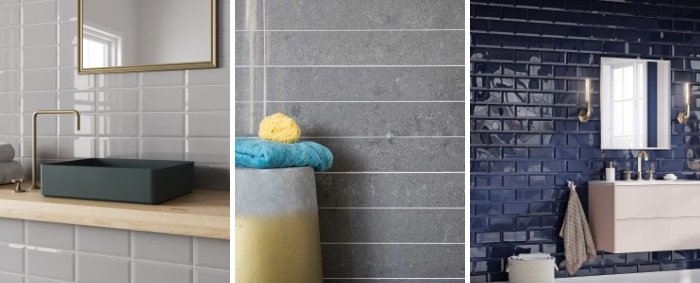 Freshen the grout to update your small bathroom on a budget
Another often overlooked, yet important detail, is grout. When grout is built up with dirt and limescale, it becomes ugly.
By simply cleaning the tiles and adding straight, clean lines of grout, you can give your small bathroom a lift without spending a fortune. We stock a range of Rocatex grout products. This is a good way to make an old bathroom look new.
You could pay as little as £25 to give your bathroom a new lease of life using this trick. It's worth keeping in mind that we can also supply grout in over 80 different colours.
For something a little different and glamorous, glitter grout hits the spot. Ideal for someone who loves a glitzy, opulent style, these can be used as a feature wall within a small bathroom. We also have plenty of advice for repairing and replacing damaged bathroom tiles.

The best affordable baths for small bathrooms on a budget
When you're renovating a small bathroom, you need to maximise every inch of space. Corners are the most wasted areas. We have a huge range of affordable small baths and showers, designed to make the most of your bathroom corners.

Our corner baths are available in different sizes to suit your budget and space.
Our Yesso acrylic corner bath
is on offer in either left or right hand, featuring a luxury offset design and premium quality materials.
Alternatively, our Lanester space-saving bathtub is one the most affordable options on the market. With a length of 1200mm, it is, on average, 500mm shorter than a standard bath, with an extra deep design. With sleek curves, the bath is able to be placed in extremely confined spaces.
If you prefer a shower, you might want to consider a space-saving offset shower, which fit into the corner of a room.
If you can't sacrifice one for the other, a corner bath with a bath screen and overhead shower is the perfect solution.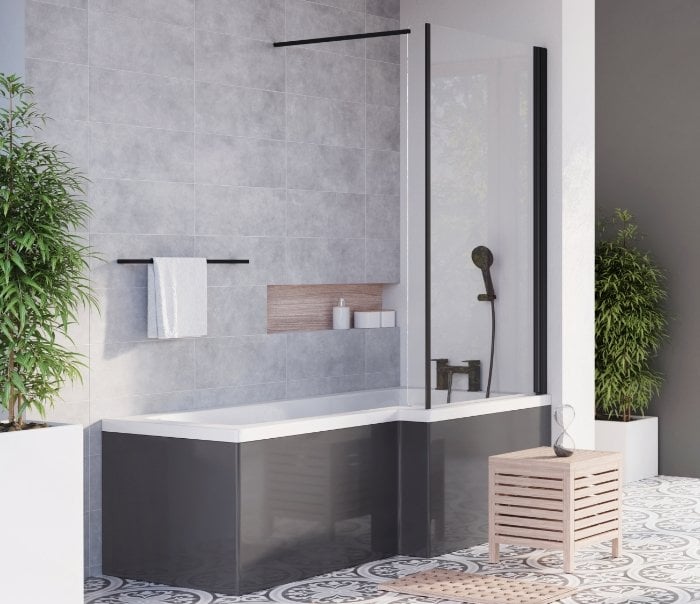 Update the fixtures in your small bathroom
Next, look at the little details. You can update your bathroom lighting, add an affordable heated towel rack, and update basin and bath taps for a relatively small investment.
These items may seem insignificant but changing them can have a big impact on your bathroom's overall look.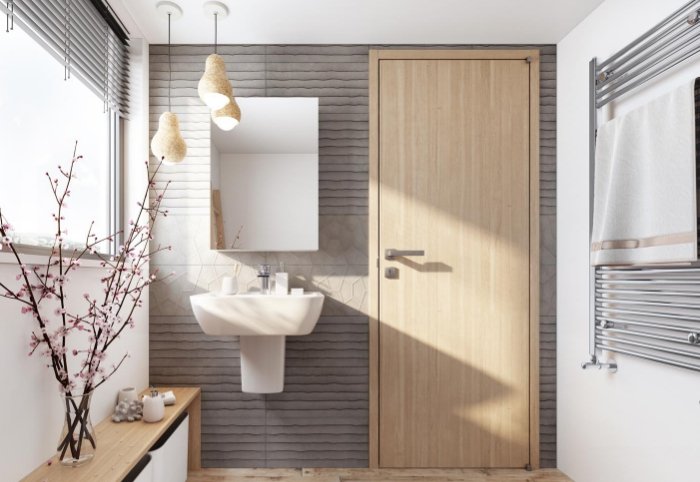 Choose combination vanity units for small bathrooms
When you combine the toilet with the bathroom vanity unit, you are able to utilise the often-dead space between a toilet and a sink, while simultaneously adding storage and saving money.
In a small bathroom, consider an all-white combination unit to boost natural light.

We have several white bathroom combination units available for small bathrooms, each on offer in either right or left hand.
Our Summers unit is the most compact and affordable. The furniture combines a basin vanity unit with a matching WC unit, creating a streamlined minimalistic aesthetic, while providing enough storage for all the bathroom essentials.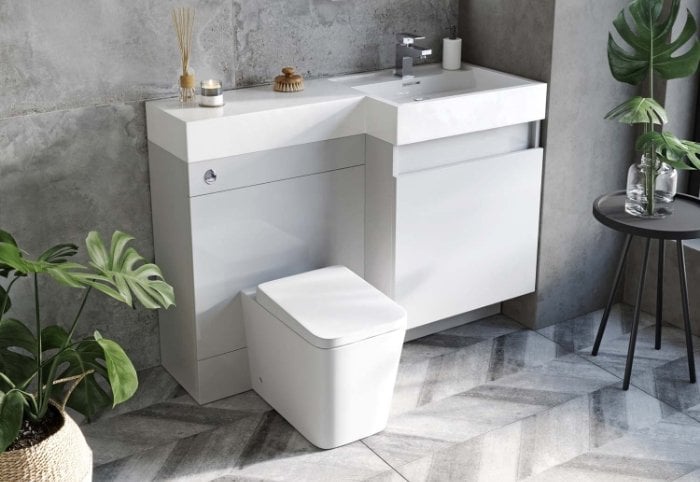 Bathroom Tile Ideas For Small Bathrooms
When it comes to small spaces, we think there's a tried and tested formula that works better than any other.
The number one trick? Using large format tiles.
Bigger tiles ultimately means fewer tiles, resulting in less grout lines. Grout is known to distract the eye with its grid-like look and creates a busier feel.
So using large tiles makes the eye believe that the wall or floor area is bigger than it actually is, creating an illusion where the room feels spacious.
Another technique to making a small bathroom feel larger, is choosing pale-coloured, glossy tiles for the wall and floor. This Monarch tile is a great option and can be mix and matched with different textures and colour.

If you're buying your first home and want to keep costs down, take a look at the bathroom products we have on sale – there are plenty of items on special offer.
Alternatively, visit one of our nationwide bathroom & tile showrooms, to browse at your leisure.