Our Reading Bathroom Store is Raising Funds for The Royal Berks Charity
Our brand-new bathroom and tile showroom in Reading opened at the very start of April; and a local charity is set to benefit.
Within the first four weeks of being open, the bathroom showroom and tile shop will donate 5% of profits to The Royal Berks Charity, which raises funds for the Royal Berkshire Hospital; enabling them to purchase the extras that enhance patient care, improve staff training and welfare.
June Leatheam, the charity's fundraising manager, commented: "Many people throughout the Reading area have had to use the Royal Berks Hospital, or had friends or relatives that have, at some stage in their lives, and we hope that they all received good care.
"What many people do not know is that the hospital has its own charity, The Royal Berks Charity, which receives donations from individuals, groups and companies, which help towards the needs of wards and departments within the Trust, and which is why we are so delighted to announce that Easy Bathrooms Reading, has chosen to support our work, for which we are extremely grateful."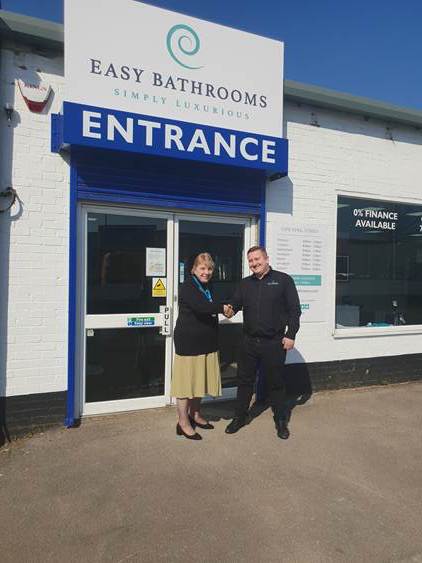 Arek Halas, manager at the store, commented on the partnership: "We are delighted to be able to support such a worthwhile local cause. We are a retailer with roots firmly in our community and we look forward to building a relationship with the charity. Not only is it local but we are aware of the individual needs of the departments which don't get as much fundraising or publicity as the others. We look forward to helping as much as we can and attending the many events this charity organises."
The shop offers 53 of our most popular bathroom furniture displays, for both the public and trade to browse. Products will be available from top brands ranging from Calypso and Cubico, through to Burlington Bathrooms and Heritage.
Clients will also be able to work with our staff to design their own bathroom, for free, using our award-winning ArtiCAD 3D system.
"Our bathroom planners are very knowledgeable about our products and the latest trends," continued Arek. "So, when a customer walks into one of our stores, they get their own personal designer and can leave with a better understanding of what can be achieved with their bathroom refit."
The store will be open seven days a week and also welcomes trade buyers, with incentives offered to business account holders.
Make an appointment at our Reading bathroom store and tile shop today.