The Best Bathroom Radiators for Small Bathrooms
Small bathrooms are often considered to be at a disadvantage compared to large bathrooms. But in fact, they often lend themselves to creativity, urging you to become more inventive with the use of your bathroom space.
If you have a small bathroom, then rejoice. There are plenty of design options for you, including bathroom radiators for small bathrooms.
When it comes to radiators, you'll want something that's got enough heat output to be practical, but small enough to not overwhelm the room.
Here are the best radiators for small bathrooms:
Tall Vertical Radiators
Historically, bathrooms were fitted with horizontal radiators, but if you're renovating your bathroom and it had a horizontal one in place before, it might be an idea to replace it with a vertical bathroom radiator.
Tall vertical radiators typically suit smaller bathrooms, as they tend to free up more floor space for the sink, bath and toilet to be fitted.
Islington Radiator
If it's a sleek, minimalist heating solution you're after, then our Islington range of vertical bathroom radiators offer style and practicality for any home. The slim oval panels and matt finish create a luxurious appearance and can help to transform a space, while the generous BTU output ensures the room is well-heated.
Available in a choice of anthracite grey or white, the Islington radiator can be mounted horizontally underneath a sloping ceiling or vertically where wall space comes at a premium. They can also be installed in any room of the home for a matched look throughout.
If you're looking for a vertical bathroom radiator with a towel rail, then read on…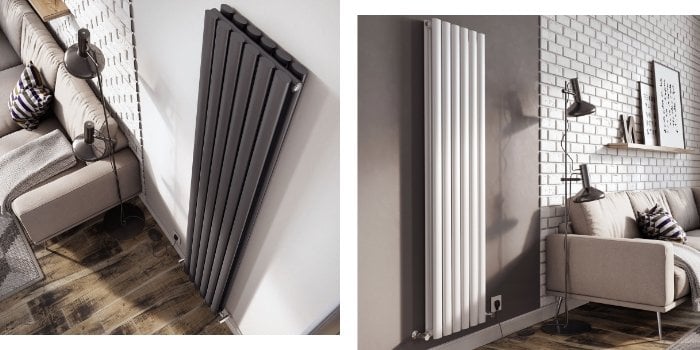 Jenka Radiator
There's something ever-so sleek about a vertical radiator. But not many of them have the added benefit of a towel rail.
That's where our Jenka range comes in. It offers a selection of two tall bathroom radiators with hangers, in either anthracite or chrome.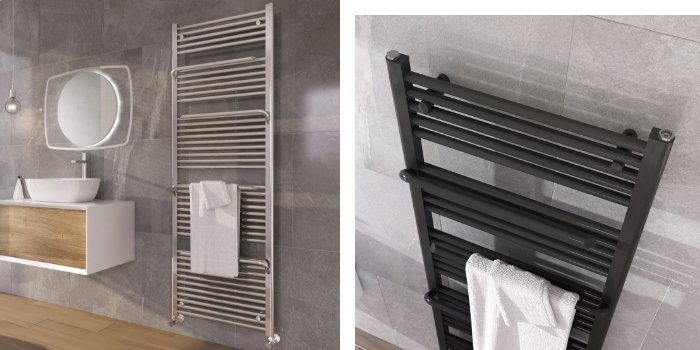 Heated Towel Rails
Bathroom towel rails not only provide plenty of power for the whole room, strong enough to be the sole heat source in a small bathroom, they also keep your towels warm and fluffy – perfect for when you step out of the shower.
Neptune Heated Towel Rails
Our most affordable range of heated towel rails, is the Neptune selection of products. They are perfect for renovating your bathroom on a budget. The neat and compact bathroom radiators are ideal for a small bathroom, while packing a punch with high heat output.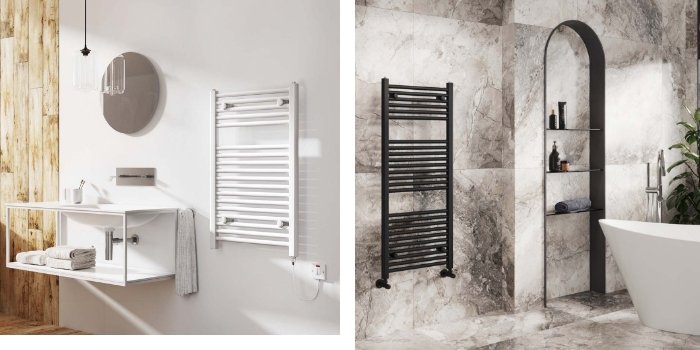 Available in white, metallic, anthracite or chrome, this is one of the most versatile heated towel rails available for a small bathroom.
Teon Towel Rails
The Teon towel radiators suit bathrooms of many sizes, including small bathrooms, as they have an extremely high heat output, with a double-layered design.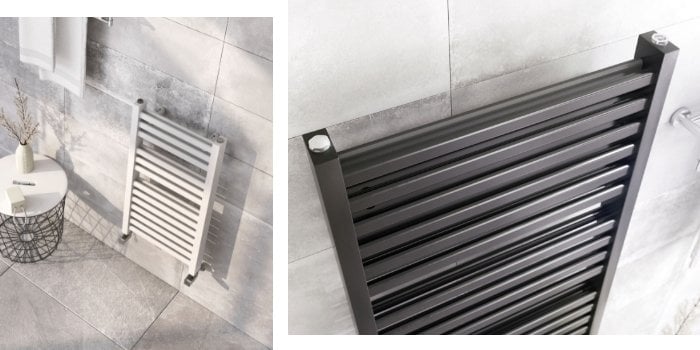 The modern ladder radiator design features clean lines, a crisp anthracite finish and provides plenty of space for bathroom towels.
Burlington Heated Towel Rails
For a more traditional heating solution, Burlington Bathrooms offers a number of heated towel rails for small bathrooms.
Burlington radiators have an authentic period look and feel, to create an air of sophistication. With a durable steel build and chrome finish, the Burlington range has quality in mind, with each product having a 10-year guarantee.
The Burlington Strand radiator is one of Burlington's most space-saving options. It can be fitted on the wall, above a bath, with space for three towels to hang.
Where is the best place to install a bathroom radiator?
Traditionally, radiators have been placed in the coldest part of the room, because cold air creates better heat conduction. But with modern radiators creating efficient heat output, it's no longer the most important factor.
The biggest consideration is where it will work for your lifestyle and space. For example, a radiator placed near the sink is a popular option, giving you instant access to a warm towel after you've washed your face.
Being placed under the window is another good choice, as it's unlikely you'll be able to use this wall for fittings or storage.
How to determine radiator size for your bathroom?
There are several influences which will affect the amount of power you'll need your radiator to have, such as room dimensions, heating levels and types of window.
Before buying a radiator, we suggest using a BTU calculator which will work out the heat requirement for your room. It will also recommend the number of radiators you will need to comfortably heat it.
The heat output of our bathroom radiators can be found under their product descriptions.
When bathroom size is not a problem, here are three other options in our range of radiators:

1. Etam
If you're into something a little more unique, then our double, rounded Etam range takes the term 'designer radiator' a step further. The soft features mean that these units are perfectly suited to either a modern or traditional environment.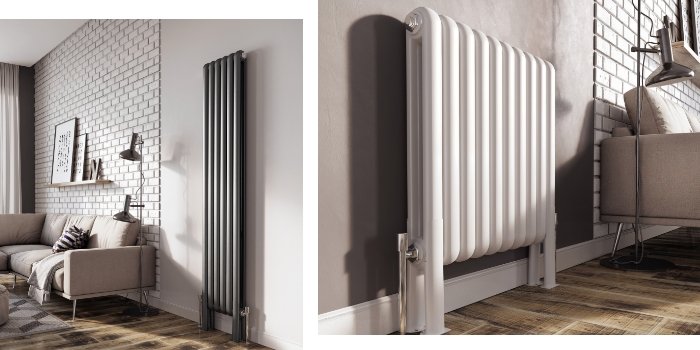 Available in a variety of sizes and either white or anthracite, they have a great output, and can be installed throughout a home to create an attractive, uniform vibe.
2. Burlington
Traditional, English style is what Burlington is renowned for the world over. Their radiator units are ideal when matched with other authentic period features such as freestanding tub with ornate feet and the classic metro tiles.
3. Portabello
A design-orientated option, these heated rails are perfect for creating a calm, relaxing environment in your bathroom and are ideal if you like to step out of the bath or shower into the comfort of a warm towel.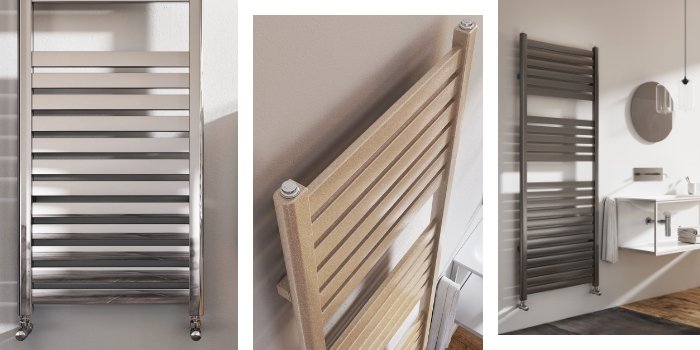 Available in brown metallic as a stand out feature or chrome for understated luxury.
Underfloor Heating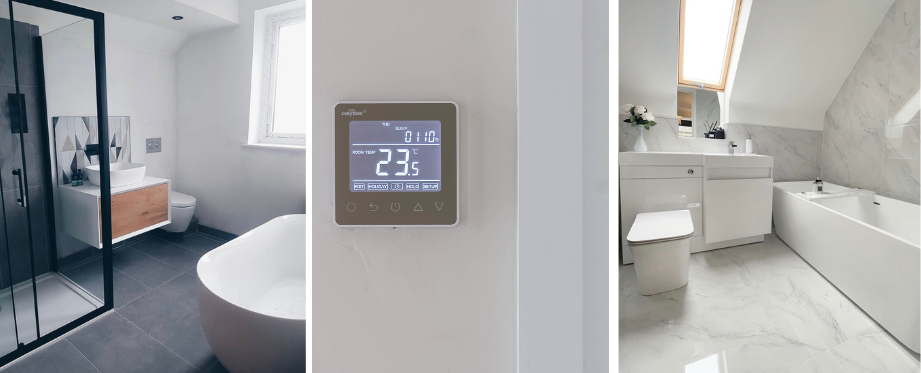 If you love a contemporary, ultra-minimalist style, then an alternative to choosing bathroom radiators for small spaces, is underfloor heating.
While underfloor heating can be one of the more expensive and disruptive options at the installation stage, it can save you money in the long run. The system distributes heat evenly around the room, working at a lower temperature to radiators, making it an energy efficient approach to small bathroom heating.
Underfloor heating is also the perfect solution if you want to save vital wall space. Take a look at our underfloor heating systems and smart thermostats.
However, underfloor heating is not always suitable in a bathroom which is carpeted or for certain types of laminate, vinyl or timber flooring.
If you're considering your radiator and heating options for a small bathroom, then why not visit the Easy Bathrooms bathroom & tile showroom near you, to chat to an advisor? Alternatively, we have more information on what to think about when buying a radiator.
Order online today with 0% finance and next day delivery available.