November 29th 2022
4 min read
The Hottest Bathroom Trends of 2023
What will be the hottest bathroom trends of 2023?
Our head of marketing, Lee Reed, discusses…


Modern Gothic
Dark and moody, modern gothic will be gracing our bathroom designs in 2023. Replacing the sweetness of Cottagecore, modern gothic is about embracing the darker side to interiors, with inky blues, greens and blacks. It is overdramatic but in a good way and what better way to bring it to life than in a bathroom, which lends itself to drama and maximalism.
New elements for 2023 will see the dark, rich colours associated with gothic but with new features such as industrial or Scandi noir elements for new twist on an old classic.
To bring the trend to life in your own home, bring in brass or gold bathroom taps for a warm touch that works alongside black marble tiles with gold veining for a dramatic, moody feel.
Think carefully about your bathroom lighting, with different layers and ambient lighting required, to help create shadows and interest.
Stay away from white if possible, and instead turn to coloured ceramics – basin and WC – to keep the trend alive. Go for blue bathroom furniture and tiles.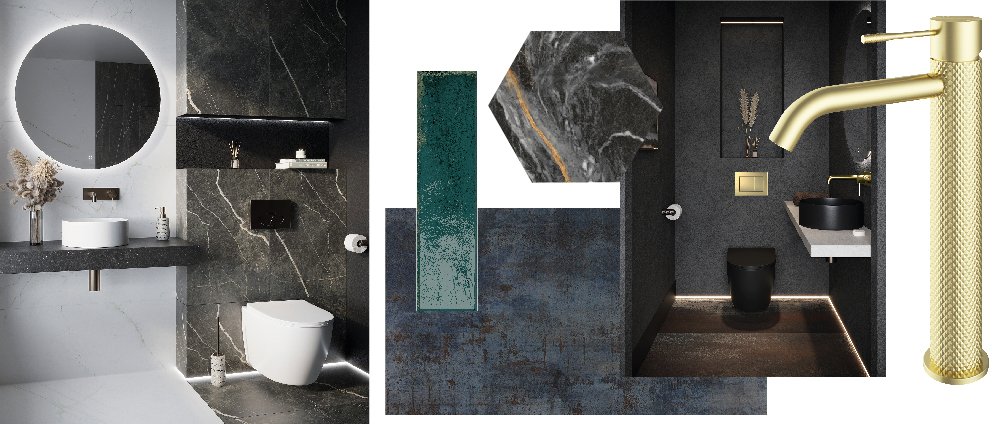 Transitional bathrooms
Homeowners want to be able to put their own stamp on their own home, creating rooms that bring to life their personality.
A trend that we'll see more of in bathroom design is transitional bathrooms; a mixture of traditional and contemporary pieces that allows a homeowner to pick what they like, rather than having to stay within the confides of a particular style.
It is about combining the streamlined, sophisticated approach of modern design with the warmth of traditional design. What once have might be consider a 'clash' is now playing centre stage to this trend.
Pick modern taps – such as our
Lux Gun Metal Freestanding Mixer Bath Tap
– to work alongside a vintage inspired tub. We love our
Bali Freestanding Bath with Chrome Feet
. Or switch it the other way. The beauty of this trend is that the owner is very much in control and can choose what they love.
LED Lit Mirrors
LED bathroom mirrors are a growing trend in home design as we seek out softer lighting to help create a sanctuary. They are also a practical edition, as the even amount of light that is distributed from them creates no shadows on your face - making it perfect for tasks like applying make-up, shaving and any type of grooming.
Backlit bathroom mirrors are much more energy efficient, as LED bulbs use less energy and last longer than incandescent lightbulbs.
While round mirrors have made their mark over the last couple of years, we'll see more uniquely shaped mirrors in 2023.
Bringing a distinct and individual feel, different shaped mirrors infuse more character and a 'wow' point in your bathroom. Bold and arty, these statement pieces breathe style into your space and will be a firm favourite among your guests.

Our Ivy Pebble bathroom mirror is a true thing of beauty.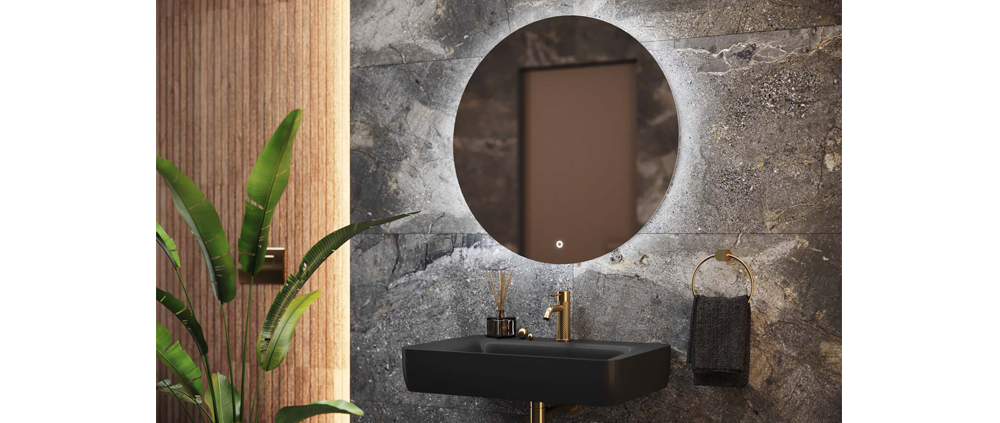 Pastel Colours
The use of pastel colours in bathroom design began in earnest in 2021 and we'll see this trend continue into 2023.

Often calming, pastel colours create a playful and soothing space that will help homeowners to relax after a busy day. One way to include pastel colours in your bathroom is through a statement tile, whether on your walls or floors, or both. Soothing greens, rose pink and coastal blues are the most popular, but we are seeing a rise in the use of pastel yellow as well. You can choose to use statement tiles across the whole of the bathroom, or just as subtle pops around the sink area or as a statement piece within your shower.

Our Pescara Fan Tile is the perfect addition to the bathroom of any fun-loving homeowner, available in pastel pink.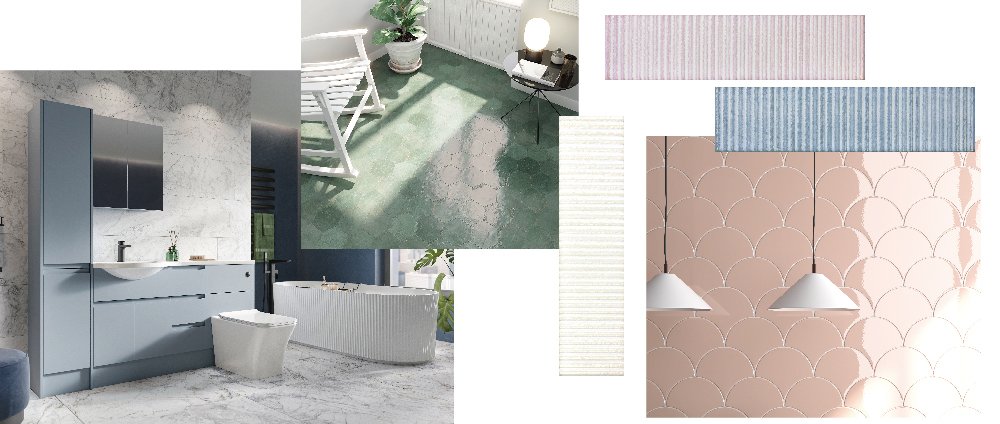 Fluted finishes
Fluting originated from architecture and is usually achieved through a series of shallow grooves that run across a surface, creating texture and interest.

We're seeing more demand for fluted bathroom products as they add three-dimensional elements to bathroom design that can otherwise be quite stark. While fluting can add character and quirkiness, it doesn't overpower a space and is instead classic and understated, making it one of the biggest trends going into 2023.

Our Olympia Fluted Bath is stealing the limelight when it comes to this trend.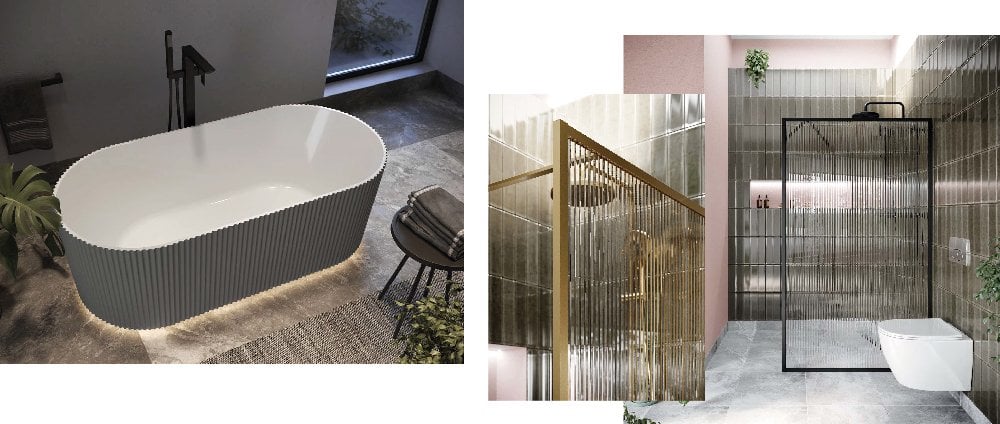 If you're planning a new bathroom for 2023, why not use our bathroom planner or visit one of our bathroom and tile showrooms to speak to an expert, who can hold your hand throughout the process?