January 5th 2022
3 min read
Vertical vs Horizontal Radiators: Which Should You Choose?
If you're confused enough to open your phone or tablet and search for 'vertical or horizontal radiators?' you've come to the right place.
You need to know some key information before spending your money on buying a vertical or a horizontal radiator, and you don't want to waste your money. Here's what you should know…
Are vertical radiators any good?
To put it simply, yes. In some cases, they are even better than the conventional ones. Contrary to popular belief, vertical radiators work just as fine as their conventional counterparts delivering the same BTU heat output.
Benefits of Choosing a Vertical Radiator
Vertical Radiators have escalated in popularity in recent years due to their ultra-modern nature. People are beginning to buy vertical designer radiators more than horizontal ones because they offer different styles and looks.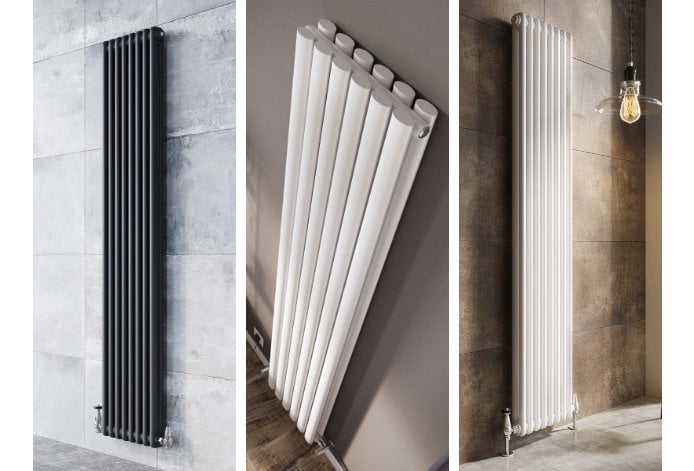 They are space savers
One of the huge and best benefits of vertical radiators is their ability to save space in your house. Due to their vertical proportions, they can use far less wall space than a conventional horizontal radiator.
They décor your rooms with their innovative designs
Because they come in a variety of styles, sizes, and finishes, they can give your house a luxurious look. They look distinctively cool with slim-fitting designs and a minimalist touch.
They are not just radiators
Not only can vertical radiators enhance the look of your room, but can also have additional benefits, such as an internal slim mirror, offering a stand-out feature and saving even more space, without the need to buy an additional mirror.
When to choose a vertical radiator
● When you have smaller rooms with less space on walls.
● When you want high BTU.
● When you buy a new home and want to make it as charismatic as possible.
● When you want to step out of the norm and want to do something special and different with your house's heating system.
Are horizontal radiators more efficient?
So, when it comes to choosing a Horizontal Radiator, they are the more conventional option. Traditionally placed under a window, horizontal radiators work in the same way as a vertical installation. But still, you can select the one which can be more contemporary looking than your previous radiator at home.

Benefits of Choosing a Horizontal Radiator
They are traditional and less costly
They are less expensive than vertical radiators and are easy to buy. You don't have to worry about their functionality, because you have already dealt with one.
They provide a quicker job
They are easy to install because of their just replacement to the previous one. And because their dimensions are exactly the same, you don't have to change the pipework.
They can still bring a modern look
They also come in different sizes and shapes. So, they can still change up the look of your room.
When to choose a horizontal radiator
● When you just want to replace a radiator with a previous horizontal radiator.
● When you are yourself a DIY-er and can change the pipework and so don't want to spend extra money.
● When you need a quick job to be done right away.
Vertical vs Horizontal Radiator: the choice is yours
No matter which radiator are you going to choose, just make sure that you select the one that would be more beneficial for your home. If you have big rooms and plenty of wall space, then you can surely choose the straight swap, saving you time and money. But if you have smaller rooms and limited space then you can get benefit from choosing a space-saving vertical radiator instead.
Browse our full range of designer radiators here.