Vintage-Inspired Bathroom Floor Tiles
Lee Reed, Easy Bathrooms' product manager discusses how you can make the most of the vintage trend which is sweeping across Britain.
Vintage — a word that's usually associated with quality, antique furniture — is inspiring a unique style that adds character to any home.
This eclectic look is getting a well deserved moment in the spotlight, from interior magazines to bloggers' Instagram accounts and furniture showrooms across the UK. And when it's done right, it's easy to understand why.
Radiating effortless, laid-back style, vintage can be seen in many home furnishings, including rustic filament lamps, French-inspired bathroom units and velvet living room sofas. But perhaps the biggest vintage statement of all, is retro bathroom flooring.
Taking inspiration from Europe, this classic look is best achieved with ceramic tiles. Think intricately-patterned buildings in Portugal, authentically-cracked pavements in France and beautifully-grand cathedrals in Italy — the kind that leave you in awe and, like a fine wine, get better with age.
It's safe to say this is a style which might split opinion, but homeowners are becoming more daring in their choices. So while some people will arrive at a showroom with a bold tile in mind, others will surprise themselves when they go for something more impactful.
But with so many options and patterns available, there's a beautiful vintage floor tile option for almost every bathroom.
In a high-traffic area — such as a family bathroom or ensuite — it's important that you choose a durable flooring which will last, and look great, for years to come. And has time has shown, vintage tiles last practically forever, so you can pick this style with confidence.
So let's take a look at three different options…
These 'Fired' tiles are some of our favourite. This style takes the idea of shabby chic furniture and applies it to tiles. With aged and worn edges and textured scratches, the black and white option has inherent imperfections which give the tile serious personality.
The matte finish works particularly well when using classic glossy metro tiles on the wall, while adding character to what could be a clinical space without them.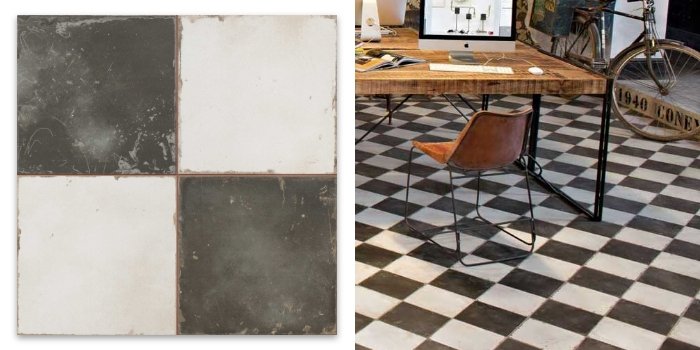 Next up, is the star-patterned design — a bold, grey geometric tile with a boutique, Spanish feel. With fake joints and a reclaimed effect, they evoke memories of days gone by and offer a rustic charm that customers can love for years to come.
Pretty and practical, this is the perfect tile for a busy bathroom floor.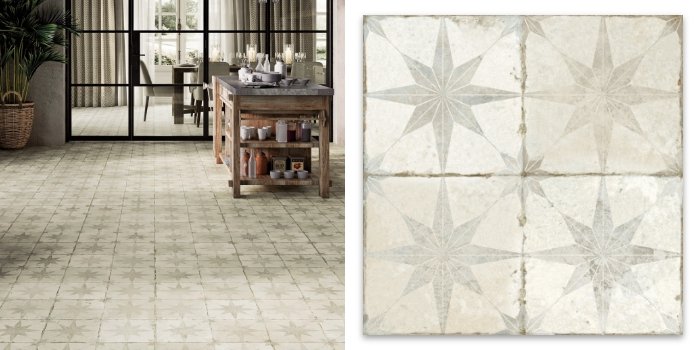 The final tile in this antique range, is the simple, white ceramic option — a chic and stylish choice for any modern or classic home. The bumpy, rustic feel of the matte finish would equally look great in a traditional farmhouse, as it would in a new property. You can combine this with a rich, navy wall tile or geometric tiles to offset their vibrancy.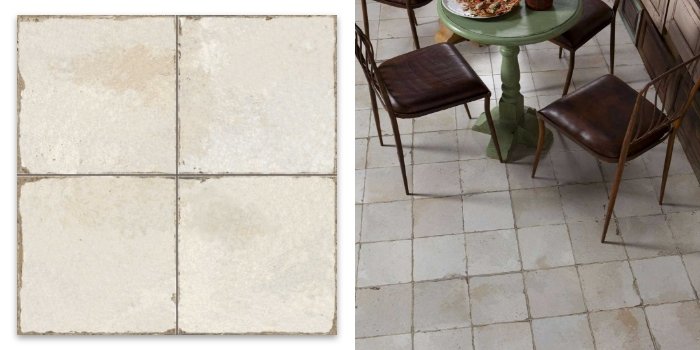 Each tile is 450x450cm, made up of four smaller units, making it a great choice for anyone who wants a quick and easy tiling option.
This look moves away from the manicured, clean finish and creates one that is considered and eclectic — something 'perfectly imperfect'.