March 10th 2020
4 min read
The 10 Biggest Bathroom Trends of 2020
If your bathroom is in need of an update, then you're in luck – because interior designer, Stephen O'Callaghan, has put together some serious inspiration, led by the hottest trends of 2020.

1. Vintage Furniture
Vintage design in bathrooms is everywhere right now. You can create this look by hunting down original furniture finds and re-purposing those to incorporate a basin, or buy one of the many modern vintage-inspired pieces.
The Burlington, Newbury or – my favourite – Stonehouse; are all available from Easy Bathrooms, which will create this look without the hassle.
2. Wood Tiles
Bring the outdoors inside with a great big hug from mother nature!
The warm and natural tone of wood-effect tiles will create your own personal spa experience in your bathroom.
The styles and colours of wood effect tiles available today is mind blowing and look truly realistic. You can be more traditional and keep the wood tiles as flooring or you can be super trendy by also having them on the wall in a feature section.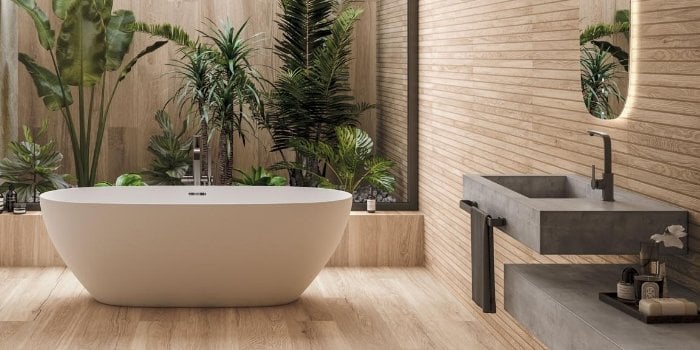 3. Asymmetric Accessories
Think outside the box and escape the monotony by incorporating asymmetric accessories into your bathroom design.
The easiest way to do this is by choosing an eye-catching asymmetric mirror, or go the extra mile with an abstract towel rail. However, if you really want to be the envy of all your friends, an asymmetric basin is the way to go.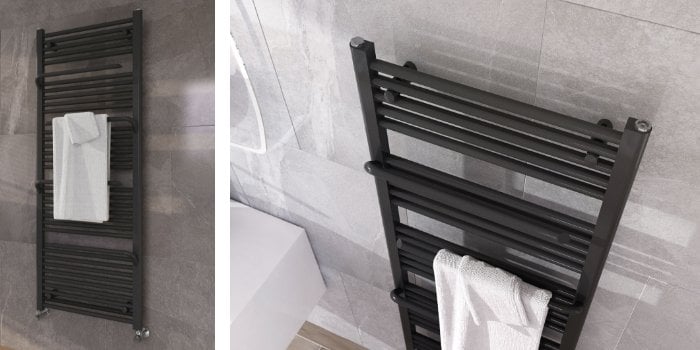 4. Graphic-Patterned Tiles
An emerging bathroom trend is the graphic tile.
These can range from traditional Victorian inspired designs to the turn of the century modernist. It doesn't matter which you decide to go for – choose graphic patterns and you can't go wrong.
The easiest way to achieve this trend is by going monochrome which will stand the test of time and emphasise the cleanliness of a brilliant white suite, but groovy colours such as navy, green and teal will really raise your designer trend stakes. Here's our tips and advice for achieving a beautifully monochrome bathroom.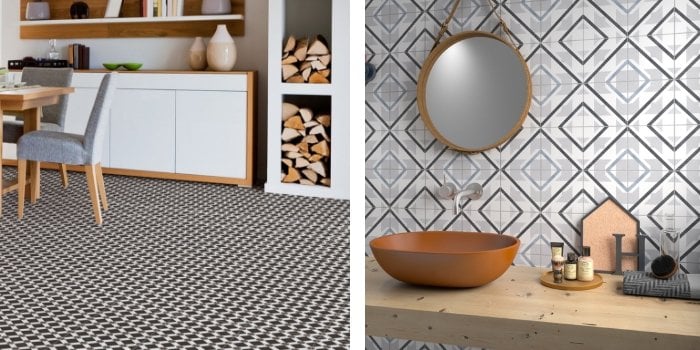 5. Water Space
A water space in your bathroom is a trend that has evolved from the wet-room; it blends the practicalities of an enclosed shower unit, with the open space of a wet room. To achieve this look, go for a simplistic low-profile shower tray such as the Peoria - available from Easy Bathrooms or a wet room shower tray which is set under the tiles, teamed with a simple shower screen divide.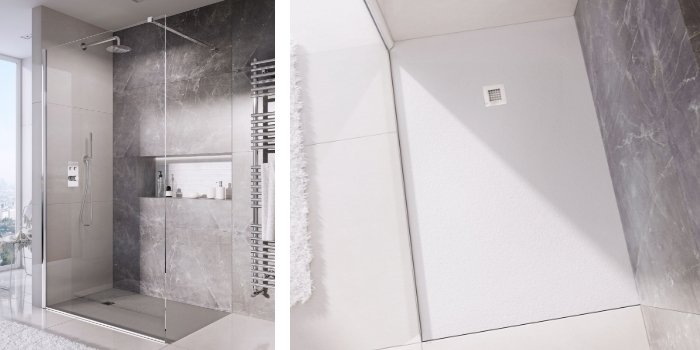 6. Patterned Wallpaper
Wallpaper is the perfect way to give your bathroom or WC the wow factor; without having to be over-adventurous with the suite you choose.
If you want a simple bathroom (suite and tiles) that will not come in and out of fashion, play it safe and give it some added Va-Va-Voom with statement wallpaper. Be brave, think exotic and don't be afraid of large-scale designs.

7. Tech-Infused Bathroom
As we all know, technology is evolving at an astonishing rate, and the bathroom has not been overlooked.
There is an emerging trend for hi-tech gadgets being incorporated into the bathroom such as digital taps and showers, social media bathroom mirrors and lighting that can give you a light show at the flick of a switch!
These tech devices are really at the forefront of innovation and perhaps still in their infancy, but they are having an effect on the aesthetics of bathrooms. If tech is not your thing but you love this ultra modern look, you can achieve it by choosing simple yet stylish fixtures and fittings.
An LED lit mirror Such as the Jarrow Bluetooth bathroom mirror exclusively from Easy Bathrooms is the perfect purchase to dip your toe into this new and exciting tech infused world.
8. Gold Accessories
Go for gold, by taking the gold bathroom showers, taps and accessories to the max! If you remember the gold trend from the first time round (shhhh, the 80's) you can be forgiven for being reluctant to re-live it, but seriously it's here to stay!

You can achieve this look with accessories quite easily. Top tip: gold accessories with marble tiles complement each other perfectly for a touch of effortless glamour.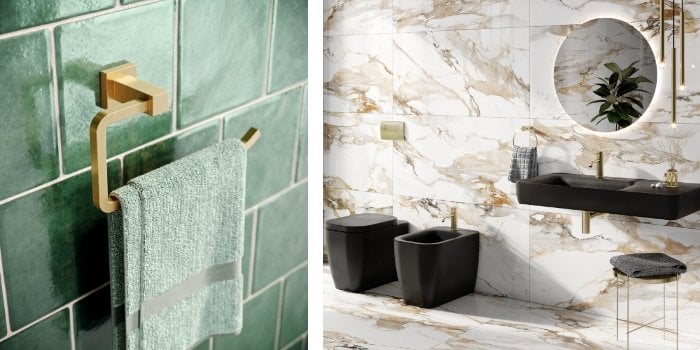 9. Serene Green
Go green, 'serene green' and create your own personal bathroom zen!
Green in all shades has emerged from the tropical and vintage trends taking inspiration from the 70's. A quick fix would be to paint the walls this statement colour, accompanied by classic white metro tiles and a simple white suite with a few tropical bathroom plants thrown into the mix.
10. Black Accessories
If you want to be trendy, but are scared of gold and brass, black is the way to go. Matte black taps and shower fittings look amazing against a clean white suite and don't show up those pesky water marks like chrome does.
Black fits in with all colour schemes so you can't go far wrong. Top tip - why not go for black taps and shower and buy gold accessories such as a gold toilet brush and toilet roll holder and lead the way in bathroom design?
Easy Bathrooms will be launching an exclusive range of matte black taps, showers and accessories very soon.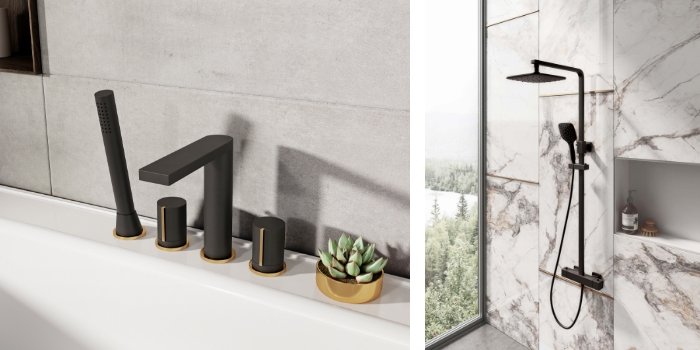 If you're looking for further bathroom design inspiration, then visit one of our bathroom showrooms and tile shops throughout the UK, for your free bathroom design consultation.