November 28th 2017
4 min read
Tile Ideas for 6 Different Rooms of the Home
When you think 'tiles', do you immediately picture a bathroom? We don't blame you — the two are synonymous. But it's about time that you think outside the box room (pun intended…), because tiles can be used in any area of the house — and this blog will show you how…
The kitchen is the second room that might spring to mind when talking about tiles — it's typically a busy space, so it makes sense to choose an easy-to-clean material for your walls and flooring.
You can mix types of tiles, styles, sizes, patterns and colours to create something that works for you. For example, ceramic tiles make a great solution for floors and we'd choose something dark and large format — dirt won't show up as much, and fewer tiles means less grout and less cleaning!
Glass or polished metro tiles are a good addition to areas that are likely to get wet, such as behind the sink, and you can make a feature of the wall behind your oven by choosing patterned or bright tiles.
The hallway is a transitional space between the different rooms of your home, and is often the first place people see when walking inside, and the last before they leave. It's therefore a great area for setting a lasting impression.
Using tiles on the floor adds a focal point of interest and makes it a more dynamic space. If the entrance is small, look at simple, large-format tiles to give an illusion of a bigger area. In bigger spaces, you can experiment with the style — we think a porcelain or ceramic tile in a herringbone pattern is perfect for keeping a traditional feel.
A less obvious area for tiles is the living room — somewhere you'll want to feel warm and cosy. But before you skip to the next point, don't discount it just yet, because there's an endless supply of options for this space. This means you can create something that's not only practical, but homely too.
For example, you could simply choose tiles to frame an existing fireplace. Or if your living room is a high-traffic area, you might want to go for tiling throughout, for ease of cleaning.
In this case, wood-effect tiles are the perfect solution. Some even have grains which make them look authentic, and when paired with a huge rug and comfy, textile furniture, it feels anything but cold!
Tiling in the bedroom is a little more unusual, but something that when done right, can look beautiful. We like the idea of creating a clean shift between master bedroom and ensuite, using the same floor tiles in both areas.
Echoing the point above, wood-effect tiles have limitless versatility and would also fit in this space well. Large planks of white-washed 'wood' suit farmhouses or loft spaces alike.
And if you're concerned about walking around on cold tiles in the winter months, we'd recommend investing in underfloor heating, for toasty toes all year round.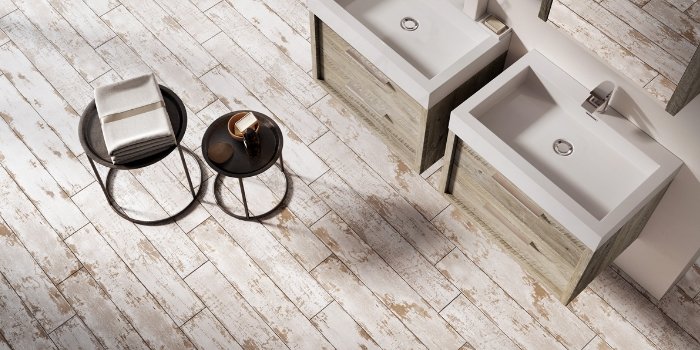 Taking a step outside the home for a moment, this advice will help you to create some serious curb appeal.
Adding tiles to the pathway that leads to your front door can give guests a welcoming invite and show off your creativity.
Porcelain tiles are the best choice because they're frost-proof, don't require much maintenance and won't fade over time. Just be sure to choose something matt rather than glossy, so that they don't get slippery when wet. We'd go for something patterned, such as this Geneva Dotstar Porcelain Outdoor Tile.
If you have a utility room, you're going to want the space to be as low-maintenance as possible. Laminate flooring is great, but simply a 'no-no' for a laundry room, where there can sometimes be accidents and water leaks.
However, you can rest assured that porcelain or ceramic tiles are the materials for the job. We love to pair light, compact and glossy wall tiles with contrasting dark, neutral floor tiles — they are a dream combo.
So, if you're renovating a room in your home, then why not pay one of our bathroom and tile showrooms a visit? Our knowledgeable experts can help you choose the perfect tiles for the space.