Making a small bathroom work
Easy Bathrooms came to our rescue with space saving and stylish options, which we struggled to find elsewhere. Having a separate free standing bath and shower cubical was a must in this house. We have found from previous experience, when selling homes, this is often on 'wish lists' for families. When installing showers over baths, we also found that we needed to experiment with different sealants to avoid leaks and even then we still found water coming through the living room ceiling once or twice. So that wasn't a road we wanted to go down again!
When we discovered the Noah White Compact free standing bath from Easy Bathrooms, it seemed like the perfect solution to free up space but didn't compromise on style and luxury. Changing the old layout of the room, the bath now stands proudly as you enter and although compact, it is luxuriously deep. Perfect for kicking back and relaxing at the end of the day.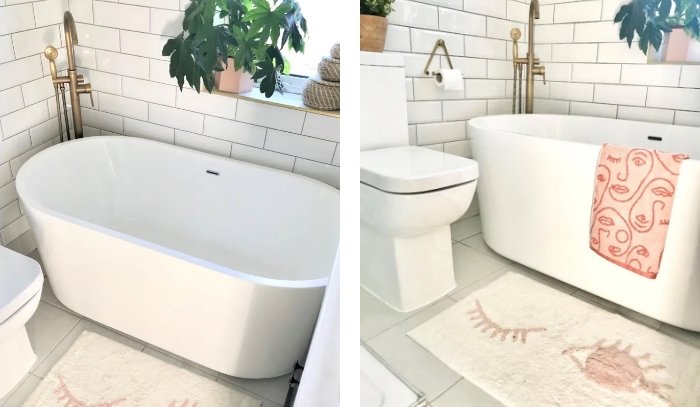 We were also able to save on space by selecting the Alfrick Closed Couple Toilet, which was just one of the compact toilet options on offer in their massive range. Easy Bathrooms is a nationwide company with bathroom and tile showrooms located around the country, so you can view the massive range of bathroom furniture and tiles under one roof.
The all important shower cubicle is located in the corner of the room. A further space saving idea, to improve the overall feeling of space in the room was to install shower doors that fold into one another. This way the doors to the shower don't obstruct the view of the room or encroach on the space, so it feels open and bright. The door to the room originally opened inwards. We toyed with changing the hinges so it opened onto the landing, until we found this solid wood sliding door option. Yet another space saver but a stylish one at that!
Choosing a vanity unit for a small bathroom
I have yearned for a vanity unit for a long time but never dreamt that we would be able to fit one into this space. Easy Bathrooms has an impressive selection of vanity units from contemporary trends to classic, timeless options in a range of sizes too. The design of the Arundel Floor Standing Vanity Unity is a traditional option with a modern twist and has ample space to store away and organise bathrooms essentials out of sight. The vanity unit in midnight grey has a double door cupboard, with soft close doors and a generous integrated ceramic basin.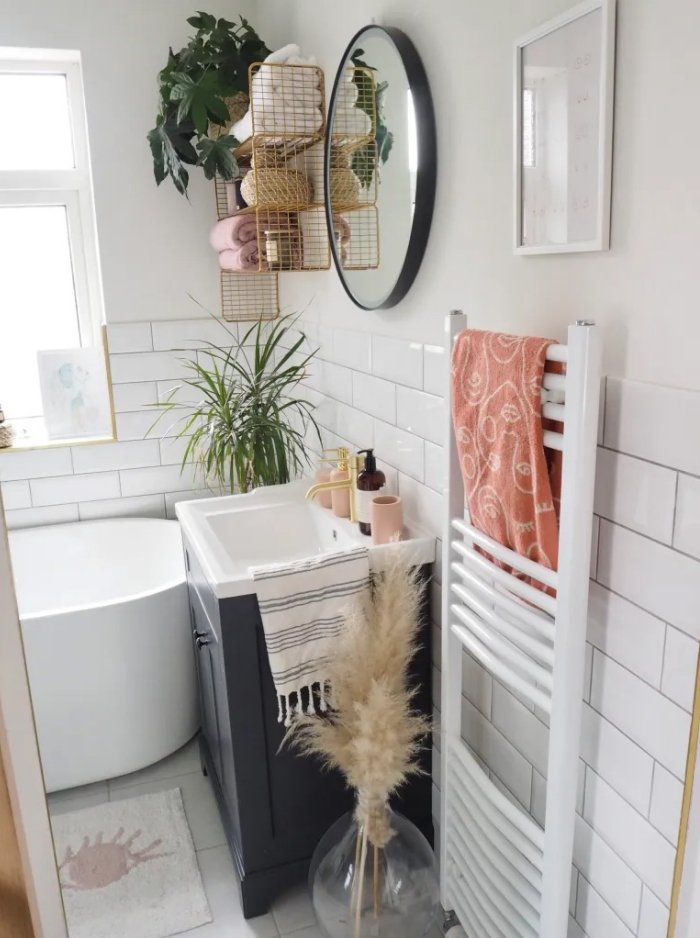 Rather than use more valuable floor space that we just didn't have, we installed three SVENSHULT gold wire shelves from IKEA to store our towels. The shelves can be arranged in many different ways but stacking them one on top of the other meant that they worked as the perfect storage solution.
So, if you're planning a bathroom makeover but space just isn't on your side, I hope that some of the lessons we learnt and the tips we've shared here can help you plan and get the most from the space.
If you want to renovate your small bathroom, please find your nearest Easy Bathrooms and tiles showroom. If you're looking for some interior design support, contact Laura on [email protected] to find out about her affordable and remote, online interior design service.