August 6th 2019
3 min read
Customer Bathroom: Modern & Bright
We recently worked with Rosie Lovelock, the self-confessed 'mad as a box of frogs' Instagram influencer, on the renovation of her master ensuite bathroom.
Based in Bristol, she has a love for beautiful, plush interiors and documents it on her Instagram account, @home_sweet_home_46.
After spotting our content, she decided that it was time to renovate her dated – we mean, it was complete with carpet – ensuite, which was the original from 2001, when the property was first built.
So, she took a trip to our Bristol bathroom showroom. Describing her experience, she said it was 'such a fab store', and was 'like a kid in a sweet shop, because she'd never seen that amount of amazing tiles before' – a perfect compliment, if we do say so ourselves.
After asking her followers which products to go for, she decided on a few key pieces, to complete her transformation, including:
Our 500mm Venus Gloss White Vanity Unit, which instantly modernises and freshens any bathroom – the perfect choice for Rosie's bathroom.
Placed directly above Rosie's vanity unit is the Jarrow Bluetooth Mirror, which she says is her favourite part of her new bathroom; complete with speakers, LED motion-sensor lights and de-misting technology.
She also went for our Chevron Mythos Gris tiles, producing a striking, stand-out feature as soon as you enter the room. She used them within her shower area too. The shower enclosure was created using two of our
Oxford Fixed Shower Screens
, combined with a sleek
low-profile shower tray
.
As for the wall and floor tiles, she chose to pair-back slightly with the neutral grey tones of the Thasos Gris tiles. With rectified edges, these tiles have very fine grout lines, creating a clean finish.
The result is an extremely modern, striking ensuite.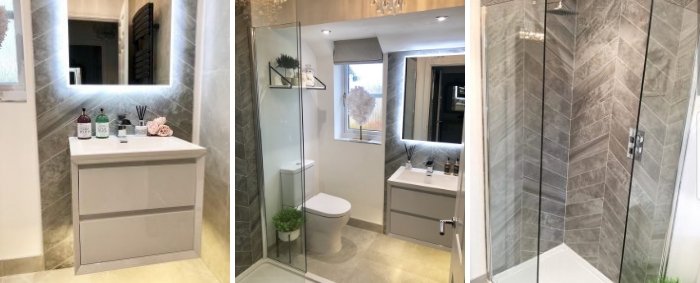 Of course, we loved working with Rosie and seeing her project come to life, exactly how she had imagined and planned it.
But what did she think of us?
Well, we asked her.
She said: "My experience with Easy Bathrooms was fantastic. I found it difficult to decide which items I needed, but with their help, it made it much simpler – the staff were incredibly helpful."
Exactly what we like to hear – and our Bristol Easy Bathrooms staff are delighted with the feedback!
We also asked her to provide one piece of advice to anyone who is thinking of renovating their bathroom.
And here it is…
"Don't be scared to experiment with different types of tiles and textures. I found that by going to Easy Bathrooms & tiles showroom, I was inspired – it gave me so many ideas about how to create my ensuite."
If you're looking for bathroom advice in Bristol, book an appointment in-store here. We also have more bathroom and tile showrooms across the UK – find your closest here.
Follow us on Instagram @easybathrooms.