August 6th 2019
4 min read
Customer Bathroom: Sleek Marble
Creating an all-white bathroom that's serene and spa-like can be rather challenging, but that's exactly what Natalie and Craig, from Instagram account @our_montreux_home have achieved in their bathroom remodel.
We worked with the couple on the remodel of their master bedroom ensuite.
They decided to redo their bathroom to create a fresh and clean feel – something that would energise them in the morning whilst providing a tranquil space in the evening.
With a pitched roof, plenty of space and a Velux window, their bathroom was always bright and airy, but it had dark tiles; which didn't create the relaxing vibe that they both wanted for the space.
So, they visited our Birstall bathroom & tile showroom, after swooning over our white bathroom products and beautiful tiles.
They documented the whole decision-making process on their Instagram, looking for a clean, classic and cool bathroom remodel. Their Instagram fans had their say on every product.
And, we have to say, we're impressed by their choices.
It takes a bit of bravery and some vision to go all-white, but they have nailed it; creating a timeless bathroom which has different textures, to create interest. We're sold – we love it!
Here are their products:
1. Furniture
First up, they went for our Aire WC and Vanity-Combination Unit. The sleek furniture creates a streamlined, minimalist aesthetic, while providing enough storage for all of their bathroom essentials.
The soft-close doors add to the relaxing vibe. The fitted furniture is perfect for the space, while the gloss finish creates a light-reflecting effect.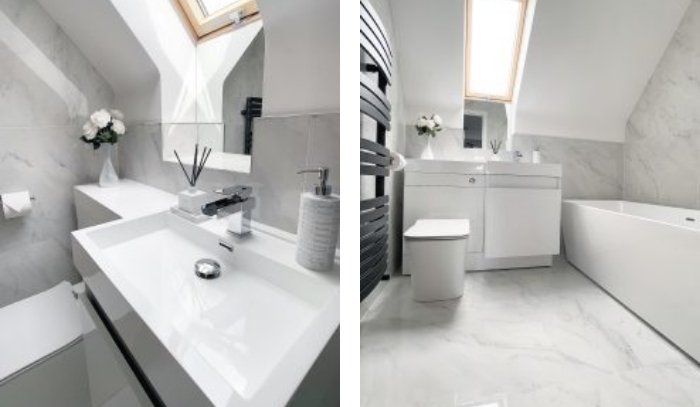 2. Fittings
Next, Natalie and Craig chose minimalist fittings to continue the calming-effect. The Elbert Toilet, for example, is a modern, back-to-wall unit in a slim design.
Originally, Natalie and Craig had a shower in the ensuite, but decided that a bath would work better for them. And the spacious Elsa Freestanding Bath creates an oasis in the space. At 1755mm, the double-ended bath is ideal for a long soak at either end, or for two people to share. The Floorstanding Cairo Bath Tap is another perfect touch. With a long, open spout, the tap creates a soothing waterfall-effect, creating a relaxing centrepiece.
The only contrast of colour in the whole of the space, is the Eventon Designer Bathroom Radiator. At 1200mm in height, the heated towel rail is highly-stylised, combining form and function.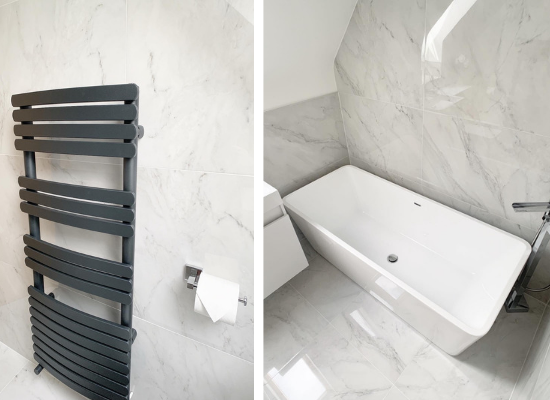 3. Tiles
When going for an all-white bathroom remodel, it needs to look invitingly-cool, rather than cold. So, tiles make a huge impact on the success of execution. Too plain, and it will look boring. Too out there, and it may create the opposite to the desired effect.
Natalie and Craig chose the perfect tiles for their ensuite. They're none other than our Anya marble-effect tiles.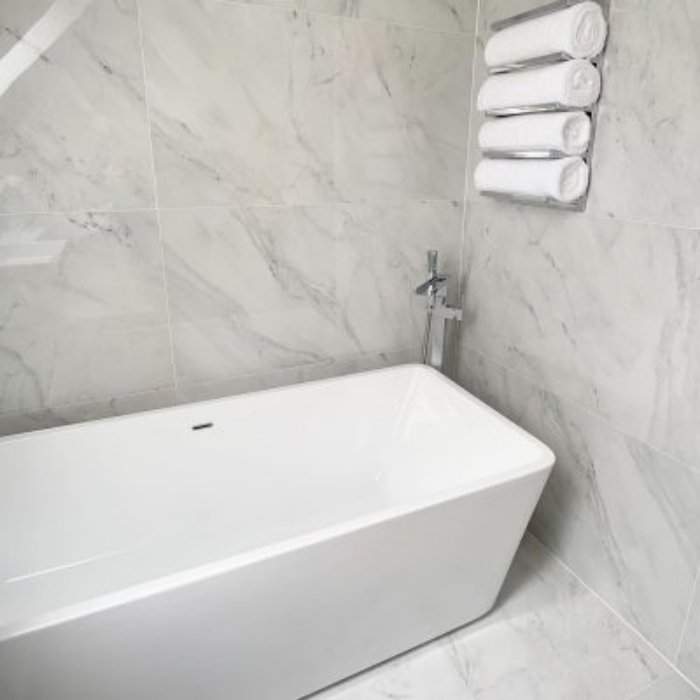 Measured at 600mm x 1200mm, these tiles are large-format, which, alongside the rectified edges - which minimise grout lines - makes them a dream for enhancing the look of space and creating a light and airy finish.
The light-grey marbling within the tile and the polished finish creates an Italian-chic, understated-luxury vibe – an absolutely timeless choice.
They chose to fit them on both the walls and the floor, to create an elegant continuation, which reflects light and creates the ultimate statement.
Their experience:
We chatted to them, to ask them about their bathroom remodel experience and to give you some handy advice. Here's what they said:
"Our experience of renovating our bathroom has been brilliant. Our advice would be to go in-store and speak to a professional, with your room dimensions to hand. We wasted so much time, trying to figure out what would work and what wouldn't, when Easy Bathrooms had all the answers straight away.
"The staff at Birstall totally put my mind at ease and gave me a number of options on my bathroom layout. Then, once we knew what would work, they helped us pick out products which would also look the part. For example, we didn't realise that using large tiles was an option. We assumed that because it was an ensuite, we needed to use small tiles. But they advised that they would make the room feel bigger, and it's the best decision that we could've made.
"Our bathroom is now perfect. Our experience with Easy Bathrooms was 100% perfect, too – from in-store customer service, to delivery. I'm also impressed with the finished result of the products."
Has Natalie and Craig's bathroom renovation inspired you?
Why not have a look to see where your nearest Easy Bathrooms & tiles showroom is? We provide free 3D designs and even a home-measuring service, to ensure that you get it as perfect as Natalie and Craig. We can help you plan the space, choose the products and even provide 0% finance, so that you can spread the cost to suit you. Book your appointment today.