August 8th 2023
3 min read
From Dated Pink to Luxury
From dated pink bathroom, to luxury master bathroom
Client Stephen O'Callaghan and his partner Lee bought a 1970s property in Barnsley, that they fully renovated.
Hear from Stephen about the renovation of their dated, pink bathroom, into a luxury master bathroom…
"We bought the property with a double story side extension that stepped down from the landing into a small bedroom with a dated pink ensuite. We rebuilt the whole thing to be on one level enabling us to adjust the space to balance the house and make this our main bathroom."
What was the biggest challenge with making the bathroom work?
I had definite ideas about having a lovely bath and spacious walk-in shower without making the room feel cramped. During the building work we took space from the landing and bedroom, and I used Sketchup to draw the layout. I was able to fit in a 1500mm x 1000mm shower and 1500mm bath. Another tricky point was the window, which has lovely views over farmland but took up too much of the wall and needed to be made smaller. The software helped me work out the optimum size to fit in a basin vanity without compromising on light and the outlook.
Where did you begin with your design ideas?
I planned the interiors for our ensuite and main bathroom together. Our ensuite is small, dark and moody and I wanted this one to be light, uplifting and inviting. Realistic marble-effect wall tiles were the start and originally I thought I'd choose a simple grey vein. But when I went to
Easy Bathrooms in York
, who have a huge tile showroom, I was blown away by the choice. These large format porcelain tiles looked impressive on display and I loved the high density textured vein details, which had greens, blues and greys and looks just like the real thing.
How did you build the scheme?
Too much marble can look sterile so I wanted a patterned floor that would bring the two together. I found a tile I liked in the showroom but not the right colour. I was able to have the design recreated using the same marble as the walls with a plain grey and black. My thoughts were for a square, grey marble basin with walnut cupboards but having it made was too expensive. It took a bit of searching to find another idea – the Belgravia art deco style marble and gold vanity from Lusso Stone is an absolute showstopper.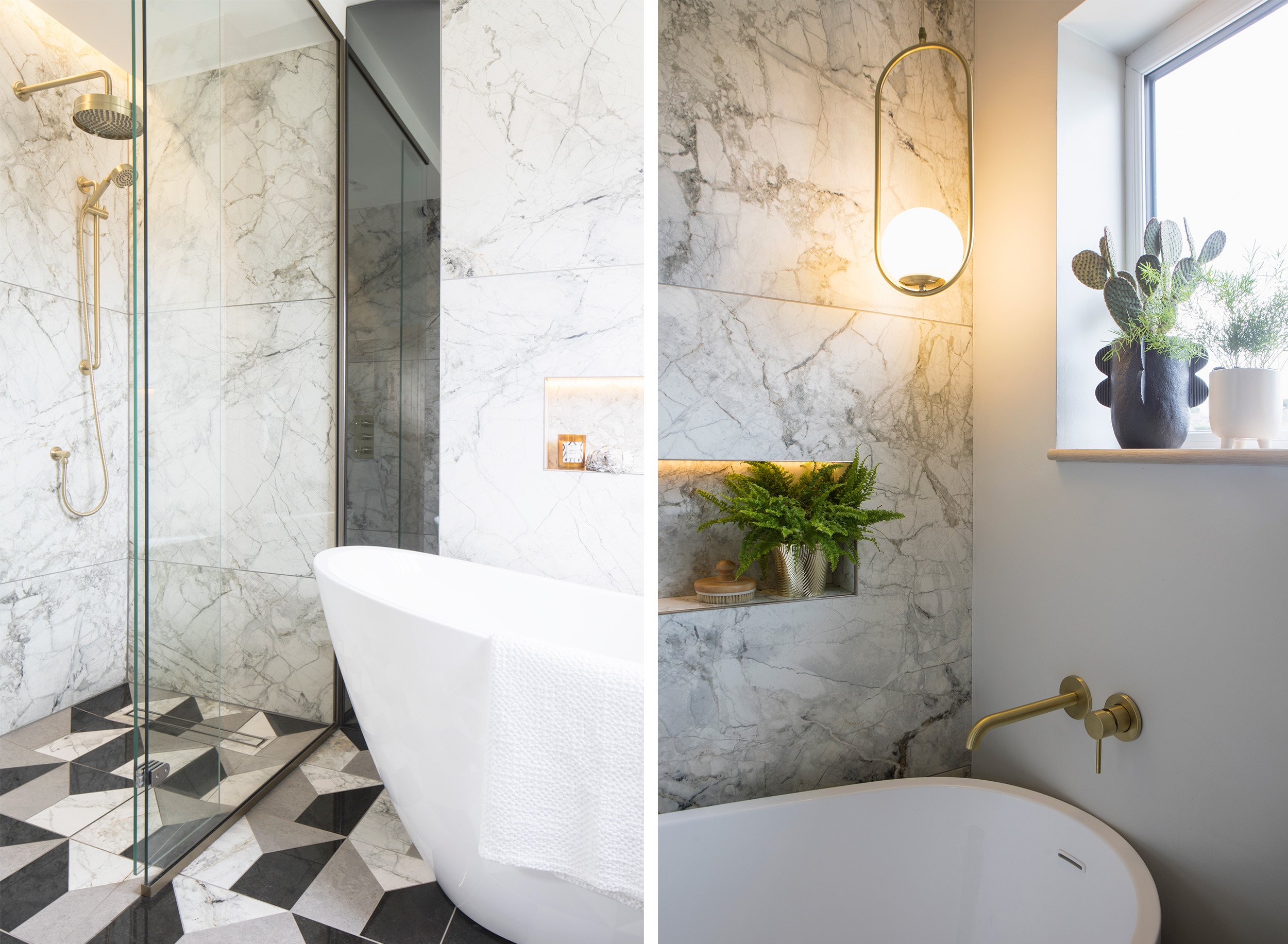 Did you work within your budget?
We based our original figure on previous bathroom projects but my ideas were more extravagant this time! To balance the budget, I decided to go for it with the tiles and the vanity as they're classic designs and will last. The bath and toilet were mid-price and I picked
gold fittings
from an affordable range. We bought nearly everything from Easy Bathrooms because we were able to walk around the shop and see everything and they have loads of choice.
What tips do you have for styling?
Gold fittings and the ornamental pendant light are like jewellery that show-off the tiles and add glamour to a plain white suite. I've used tall, narrow floor-to-ceiling smoked mirrors behind the bath and vanity to create visual space. They also bring a reflective playfulness that makes the room come alive – little touches like this are great for creating interest.
What's been the biggest success?
We love the whole bathroom, I got everything in that I wanted, but honestly, the
lighting
has been the best decision, creating the ambience and elegance that has finished everything off.