January 29th 2016
4 min read
Basic Tips for Renovating an Old Bathroom
The size of your bathroom is an important factor to consider when renovating your bathroom as this will dictate exactly what type of fixtures and fittings you choose. Therefore, make sure you correctly measure the room and make a note of the location of existing plumbing, pipes and electrical wiring.
You will also need to consider:
Budget
How much do you want to spend? Setting a budget will help guide you as you make decisions about what to include in the renovation. Are you going to do the work yourself or will you need professional help? Whichever you choose you need a clear idea of the costs involved. Shop around and get estimates for any work you are unable to do yourself.
Time
Be realistic about the length of time it will take to renovate the bathroom. It is not necessarily the case that a small bathroom will take much less time than a larger one. Depending on how many items you are changing in the bathroom you or your plumber will have to go through all the same steps whether it is a small or large room. If you only have one bathroom in the house you will have to plan to do the work when you can make alternative arrangements to take a shower and use the toilet.
Order of Work
Completing the job in a specific sequence can save you from a lot of time cleaning up and mistakes. Start with the ceiling, then the walls and lastly the floor so as to prevent damage to your new furniture.
Hidden problems
Depending on how old your property is and how well it was built, the biggest hidden problem you may encounter is water damage. Make sure you check for structural defects in the floor supports and look for old corroded or not properly vented plumbing and non-waterproof tile shower/bath surrounds.
Style and functionality
There are many factors to consider when deciding how you want your bathroom to look, such as colour, choice of tiles, vanity units, basins, showers, tubs and toilets. It can be very overwhelming and here at Easy Bathrooms we understand this, which is why our friendly, informative sales advisers are here to help you every step of the way. You can start to piece together elements that you like into what will become the final design of the bathroom or you may prefer to choose a particular item you want to feature in the bathroom and then design the rest of the room around it.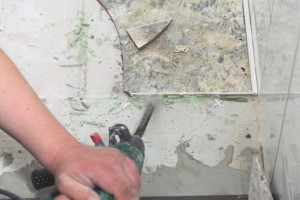 Do it yourself or not?
Why hire someone to do a job that you could possibly do yourself? Well, as renovating a bathroom is quite a complex job with difficult tasks involved such as electrics, tiling and plumbing, it might be best to hire a contractor unless you are confident in your ability to undertake the work.
Fixtures and Fittings All renovations include the remodelling or repairing of fixtures and features such as shower, bathtub, toilet, basin, taps and shower heads.
Walls and flooring
Most people choose tiles for their bathroom walls. Easy Bathrooms have a wide selection to choose from depending on your taste and budget. Tiles are often a popular choice for floors but you could also consider vinyl which is less expensive. Whatever your choice, always consider durability and slip-resistance.
Ventilation
Ventilation is crucial in a bathroom as poor ventilation can cause damp and mould. Choosing the right fan and the right position for its installation is essential. A well-ventilated bathroom is a must.
Storage
Planning where to place cabinets, shelving and storage solutions is a tricky problem especially in small and often oddly shaped rooms, like the bathroom. They need to be functional and practical but stylish at the same time and they must also fit into and make the most of any available space.
Lighting
Adequate lighting in a bathroom is essential, so choose lighting that is both functional and creates atmosphere. Always make sure that you maximise any natural light.
Accessories
No renovation is complete without new accessories such as towels, soap dishes, towel rails bath mats etc. This is an ideal way of introducing a splash of colour to your bathroom without breaking the bank.
It is usually thought best to renovate your bathroom in keeping with the overall design of your home. If you live in a country cottage, for example, you may want all mod cons in your bathroom but want to still retain a rustic feeling to the room. This can easily be done with colour, accessories or the choice of materials used in your renovation.