How to Clean Limescale from Shower Head?
If you want your shower to be as powerful and relaxing as the day you first bought it, then there are no two ways about it: you need to clean limescale from your shower head properly, and regularly.
Take a look at the inside of your kettle. If there is limescale in there, then it's probably on your showerhead too.
Hardwater can lead to a build-up of limescale, alongside a natural occurrence of dirt and grime. These are likely to block the shower head.
You'll know if your showerhead has a blockage, because the water may run slower than it first did, and it will have irregular spray patterns.

Why Should You Clean Limescale Off Your Shower Head?
There are two main benefits of cleaning your shower head. First of all, you'll have better shower pressure. You'll thank yourself when you step into the shower and notice an immediate difference.
The second reason is the health factors. Bacteria and germs go hand-in-hand with a humid environment, such as a bathroom.
Nobody wants to stand under a showerhead teeming with bacteria. Cleaning your shower head will protect you from coming into contact with any irritants.
How to Clean Limescale from Shower Head?
Cleaning limescale off your showerhead needn't be complicated.
There are two main methods.
When cleaning limescale from a shower head, you could go for a product specifically made for cleaning showers, a homemade concoction or an eco-friendly mixture.
Cleaning Method 1: White Vinegar
White vinegar is one of the simplest and easiest ingredients for removing any limescale build-up from a shower head.
Steps:
Remove the shower head (if possible)
Using a resealable sandwich bag, fill it with white vinegar and tie it around the shower head with a rubber band
Leave it, still in the bag, in your bathroom sink
After a few hours, take the showerhead out and scrub any remaining limescale with a soft sponge
Use a toothpick to clear away any embedded grime inside the spray holes
Fix the showerhead back onto your shower
Run the shower for a few minutes to remove any final remnants of grime
Cleaning Method 2: Using a Limescale Cleaning Product
There are plenty of options out there when it comes to products specifically for cleaning limescale off a showerhead. These products often take much less time than the vinegar method.
Check the product specifications, to ensure the harsh solution won't damage your shower head. Once you're sure you're good to go, simply follow the instructions on the label, taking any safety precautions as necessary (such as wearing rubber gloves to protect your hands).
How to Maintain Your Shower Head
Now that your showerhead is back on top form, it's important to maintain this level of cleanliness. We recommend using an in-shower cleaning spray on a daily basis, to prevent the build-up of limescale, soap and scum on your shower head and the shower enclosure. Try spraying the solution into the showerhead holes, to help de-clog them.
You can also repeat the process of soaking the shower head in vinegar every couple of weeks.
Is Your Shower Head Damaged From Limescale?
Damaged showerheads that show no sign of repair may need replacing.
This is usually the case if the build-up has been left for some time. You may therefore want to consider investing in a new shower head.
Choosing a New Showerhead
When choosing showerheads, there are a number of style options to pick from. Our best advice is to go for a chrome-plated showerhead from an established retailer, to avoid having to replace it again in the near future.
At Easy Bathrooms, we have plenty of choices.
The Vade Shower Head Range includes slimline, chrome-plated shower heads in a number of sizes and shapes – the perfect option if you want a modern, fixed shower head.
Tarvin is another range to choose from, offering a chunkier alternative to the Vade selection of products.
For a more classic option, you could go for a branded Burlington AirBurst Shower Head, saving you up to 33% of water while you shower and creating a timeless statement in your bathroom.
A substitute for the Burlington range, is our Cambridge Shower Head for vintage-style bathrooms.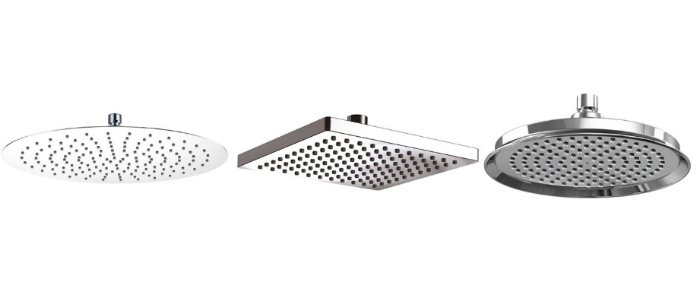 Whichever design or style you choose, you'll find a great selection of showerheads and arms at Easy Bathrooms.
Alternatively, visit one of our nationwide bathroom & tile showrooms, to browse shower products at your leisure.