September 5th 2019
7 min read
Is Bathroom Underfloor Heating Worth It?
Underfloor heating is a lovely way to keep your bathroom warm. Not only is it cosy to walk on, but it frees up wall space, distributes heat evenly and can even save you money in the long run.
So why don't more people have it in their homes? We look at the pros and cons, and the ins and outs of underfloor heating, to help you decide whether it's right for your property.
Why should you get underfloor heating?
It's kind to your toes! Warmth underfoot is one of the biggest deciding factors in choosing to install underfloor heating, as it's a benefit you'll literally feel when you step out of the shower or bath
It creates a minimalistic look and finish, replacing the need for bulky radiators, which can take up valuable wall and floor space – also providing you with more design freedom
It leaves no cold spots in the room, it as distributes heat evenly (the heat is also set by a thermostat, so it won't ever overheat)
It has efficient heat output – radiators need to be 75 degrees to heat up a room effectively, whereas underfloor heating is set at around 30 degrees. It effectively consumes less energy and can lower bills by around 15%
Underfloor heating is typically safer – you don't have to worry about children being scolded on radiators.
Are there any cons to underfloor heating?
Underfloor heating can be expensive to install, particularly in existing buildings where it is being retrofitted
It can take a while to get to the right temperature, meaning that you need to set the heat to come on a day before you return from holiday, for example.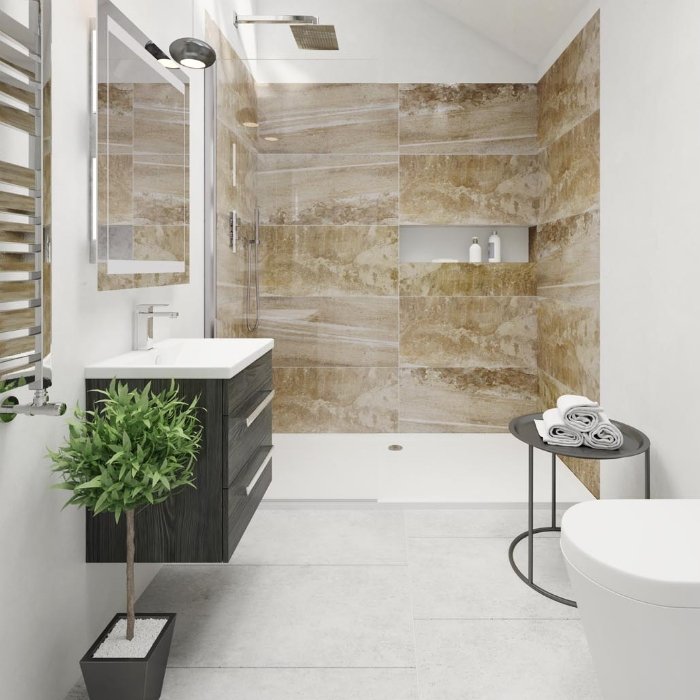 Electric or water underfloor heating system?
There are two main types of underfloor heating, including electric – known as a 'dry' system – or water – known as a 'wet' system.
An overview of electric underfloor heating:
Electric underfloor heating uses a network of wires under your floor. You can choose loose wires – ideal for awkward spaces – or ready-made mats which you can roll out. They vary in terms of wattage, from around 100W to 200W per square metre.
Pros:
Electric systems are easier and cheaper to install than water-based solutions, and are often suitable for DIY projects
Cons:
The running costs of an electric underfloor heating system are higher than the water alternative
Choose if:
You are renovating a room or property
You have a small, awkward space to heat
You want lower installation costs
An overview of water underfloor heating:
Water underfloor heating systems circulate hot water under the floor via pipes from the boiler which will then heat the room.
Pros:
They are more efficient than radiators, making them cheaper to run and can reduce energy bills
Cons:
They are not suitable for DIY, so an expert must install them, making it a more costly fitting process
Choose if:
You have a new-build project
You want lower long-term running costs
You have a large space to heat
In simple terms, when renovating a bathroom, the system which is most ideal, is an electric underfloor heating system – as by nature, they are typically small and awkwardly-shaped.

How do electric underfloor heating mats work?
Our underfloor electric heating mats consist of thin loose wires, which are evenly spaced and attached to an insulated fibre mesh. These can be laid across a smooth and level floor, with insulation placed on top. Because they are on a roll, they are easy and quick to lay out.
At Easy Bathrooms, our electric underfloor heating mats provide 150W per square metre. They are sold in multiple lengths, ranging from 1m2 to 10m2.
Choose if:
You want quick, easy DIY installation
Our underfloor heating mats are sold with 25-year guarantees, for added peace of mind.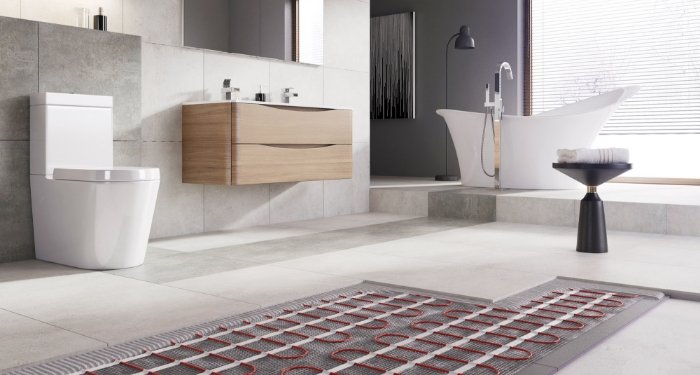 How do loose electric heating systems work?
In comparison to electric mats, loose wires don't come on a roll, so they can be laid exactly how you want them. This is ideal if you have an awkward space to account for, e.g. around a bath. However, it's important that you space them out evenly, to ensure an even heat distribution and no cold spots.
At Easy Bathrooms, we supply Cosytoes' loose heating cable, which is sold in lengths from 26m-68m, including wattage of 120W-200W.
Choose if:
You're hiring a professional to do the job
You have awkward spaces
Cosytoes' underfloor heating wires are sold with 25-year guarantees, for added peace of mind.
Both types of electric underfloor heating systems are connected to your mains supply. You can then use a thermostat to control the temperature and pre-set the system to turn on or off.
Best bathroom thermostats for underfloor heating?
We have numerous touchscreen bathroom thermostats, suitable for different needs, styles and budgets.

Easy Underfloor Thermostat
Our Easy Bathrooms underfloor heating thermostats are designed to be used with our loose heating cables. The digital thermostat offers six settings, enabling you to time your heating controls. It is sold with a two-year guarantee.
Price: £74.25
Mirage Touchscreen Thermostat
The Cosytoes' Mirage thermostat features a time display and utilises the benefit of holiday mode. With a mirrored display, it is a modern touch to any bathroom. You can fit up to 22m2 of matting or cable to the Mirage control.
Price: £99
Curve Wifi Touchscreen Thermostat
Another Cosytoes product, the Curve range of thermostats are Wifi-connected, meaning that you can control your heating anywhere, from your phone. It also has a time display and a holiday function. You can fit up to 22m2 of matting or cable to the Curve control. It is available in a mirrored finish, white or black.
Price: £167.25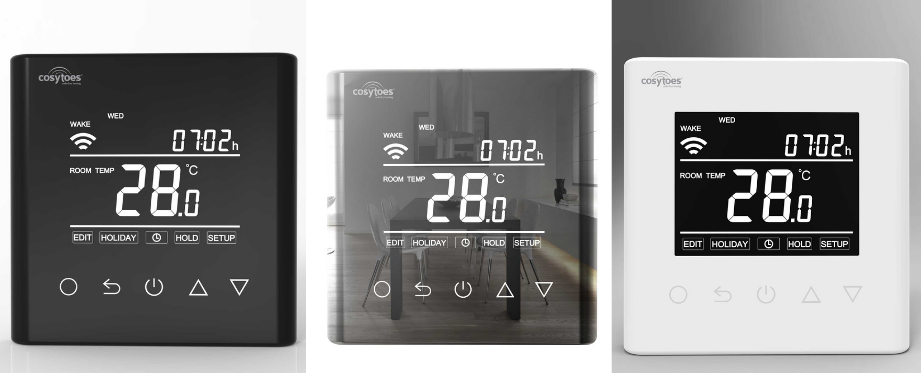 How much does bathroom underfloor heating cost to run?
Underfloor heating can substantially reduce your energy bills compared to radiators. Running costs will depend upon how well-insulated your bathroom is, what energy tariff you are on and how well you manage the system.
Based on average energy prices, and using the system for six months of the year, in a bathroom sized at 4m2, which will be used for 3 hours per day, it would cost approximately £50 for the full six months.

How much does underfloor heating cost to install?
Electric mat systems typically cost between £45-£75 per square metre, while loose wires can amount to £60-£100 per square metre.
An average bathroom is typically sized at 3-5m2, so the materials will cost between £135 - £500, depending on the type of system you go for and the size of your room.
As well as the type of system you have fitted, there are also many other factors that will cost you money:
The thermostat (£75 - £170)
Fitters' fees to remove radiators and install heating (£400-£825)
Due to all of the different factors that could have an effect on the cost, we recommend getting quotes from at least three installers to give you the best chance of getting the perfect deal.
All in, the cost to install underfloor heating is likely to set you back between £610-£1,500. Remember, you'll also need to think about what type of flooring you're going to have. Tiles are usually the best option.

The best underfloor heating tiles?
Tiles are the most thermally conductive floor finish, helping to transfer heat into the room quickly. Both porcelain and ceramic floor tiles are suitable options.
Tile thickness will have an impact on heat-up times, with a thicker tile taking longer to be heated than a slimmer one, so sticking to a maximum of 20mm thickness is recommended.
And because they're being fitted in a minimalistic bathroom, it's also a good idea to go for tiles which are:
Anti-slip
Large-format
Are rectified, for slim grout lines
Here are Easy Bathrooms' tiles which fit all of these categories.
Some of our favourites include the 600mm x 1200mm Terrence Grey Matt Porcelain Tile, which you can fit on the floor and walls to create a sophisticated finish.
The neutral tones of the 750x750mm Felix Crema Porcelain Tile also exude luxury, with light marbling to add depth.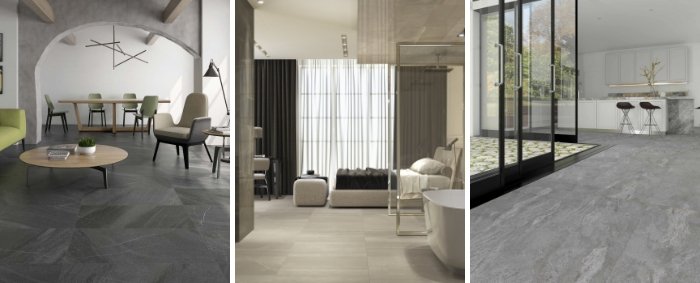 If you're thinking about installing bathroom underfloor heating, visit your nearest Easy Bathrooms & tiles showroom, to chat with one of our advisors. Our expert bathroom teams will be able to help you choose the best electric system to suit your needs and home.