October 29th 2015
2 min read
Creating an En-Suite Bathroom
Creating a new en-suite is a popular way to provide your home with an extra bathroom, very useful on busy mornings when it seems as if the whole family wants to use the bathroom at the same time. As you are the only one that will be using the en-suite, you can design a room that is completely personal to you, so choose a theme or design, get creative and go for it!
How to make room for an en-suite
Do you have any space that you aren't using for anything important and that is near the waste pipe? Maybe, you could use the space currently taken up by fitted wardrobes in a bedroom, or divide a big room with a partition wall. Another option is to take space from two rooms rather than one but make sure that you can still fit a single or double bed in the remaining space as you won't want to lose a bedroom.
Which furniture to choose
First of all, think about the size of your room. Can you fit in a bath along with a shower, toilet and hand basin? Most en-suite bathrooms are on the small side, so make use of every inch of space with smart fittings and clever storage. Opt for a shower over the bath or perhaps choose to substitute the bath with a shower enclosure At Easy bathrooms, we have handpicked a range of quality items to help you build the en-suite of your dreams from shower enclosures and walk in showers to trays and essentials to provide that quality final touch.
We also have the Summers furniture which combines a basin vanity unit with a matching toilet housing unit in gloss white and a solid single piece stone-resin basin only 900mm in width which makes it an ideal choice for a small en-suite.
If you are lucky enough to have a larger en-suite bathroom you could create a luxurious space with a freestanding bath, a walk-in shower, double basins and vanity units and sumptuous chairs and soft furnishings.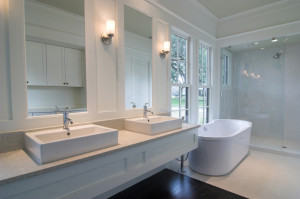 Choose co-ordinating colours
When it comes to decorating, an en-suite bathroom should look as if it belongs to the bedroom, not necessarily exactly the same, but the colour scheme and overall style should harmonize with each other. Choose pale coloured tiles that match or the bedroom or maybe opt for white tiles which have the added benefit of bouncing light off the walls making a small room seem bigger. Colour can always be added by using accessories that co-ordinate with the bedroom.


Mirrors
You can create the illusion of more space by installing mirrors. One large mirror usually works best, depending on the shape of the space you have to work in. Install a mirror on the largest wall, at eye level height and if possible, so that it reaches close to the ceiling.