Freestanding Bath Paint Service
Painted freestanding baths have proved hugely popular over the last couple of years, fitting effortlessly into both contemporary and traditional spaces. Opting for a painted option has brought colour into our homes, and with muted through to jewelled pallets and colour trends coming to the forefront.

Luxury paint brand, Little Greene, recommends selecting shades that "exude tranquillity and serenity so you can create a haven within your home. For a scheme that provides you with a calm retreat, use colours with warm undertones that really bring comfort to a space"

For those wishing to be a little more daring, colour blocking your painted freestanding bath is a fantastic way to be playful with colour. Pair contrasting shades for an interesting combination and a striking finish that really frames the features of a space.

For the first time, we now offer a bespoke-in-house painting service on our freestanding baths. We have advertised a selection of colours, however we are able to colour match to RAL and Pantone colours, as well as the popular Farrow & Ball or Little Greene on request.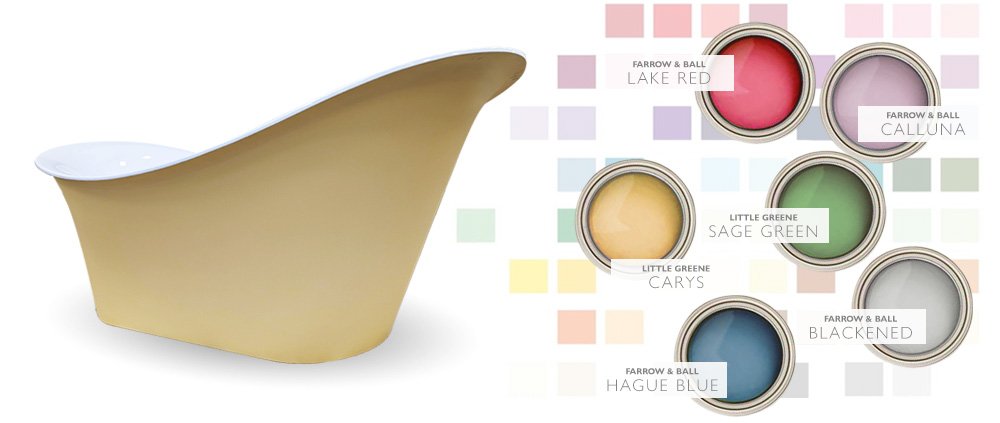 Whatever colour you choose for your new freestanding bath, painting will be done using an exterior eggshell paint. This is because this type of paint is durable, flexible and has a breathable finish – a must for areas where water and humidity are commonplace. It's also resistant to flaking, peeling and colour fade for up to 6 years, as well as being water and fungal resistant.
The painting element of our freestanding baths comes with a 5-year guarantee and a touch-up pot is supplied. Our current lead time is seven to ten working days from point of order and priced at £599 (incl. VAT). This is a made to order service, please ensure before ordering you have noted our returns policy on made to order items.