October 31st 2022
2 min read
Meet Our New Fluted Baths
Stand out from the crowd - New fluted baths
Fluted texture is enjoying a renaissance in modern bathroom design as it's a fantastic way to add interest to a room, as well as giving a nod to Art Deco glamour.
Our new Olympia Fluted Bath combines a ribbed exterior finish with soft curved edges for a show-stopping bath that can be used to bring several trends into the home. Working perfectly with floor standing bath taps or wall mounted bath taps, the ribbed Olympia bath has a generous bathing area and has been designed to be both stylish and comfortable to use.
The bottom rim has space for LED strip lighting which can be used to show off the fluted finish, with the light adding playfulness and contrasting shades that can highlight the textural elements.
The 1700mm bath is available in white, midnight grey or light grey. Alternatively, make the bath your own with our painting service. Purchase the bath in white and add the paint service to your basket for less than £600. Go for daring pink, green or even blue and match it with some of our new colourful tiles such as the stunning Canillo tiles in pink – an absolute show stopper.
We also have it available as a back-to-wall ribbed bath if you prefer to use the bath sides for storing candles. Pair it with wall-mounted bath taps. We'd opt for the stunning Moray range.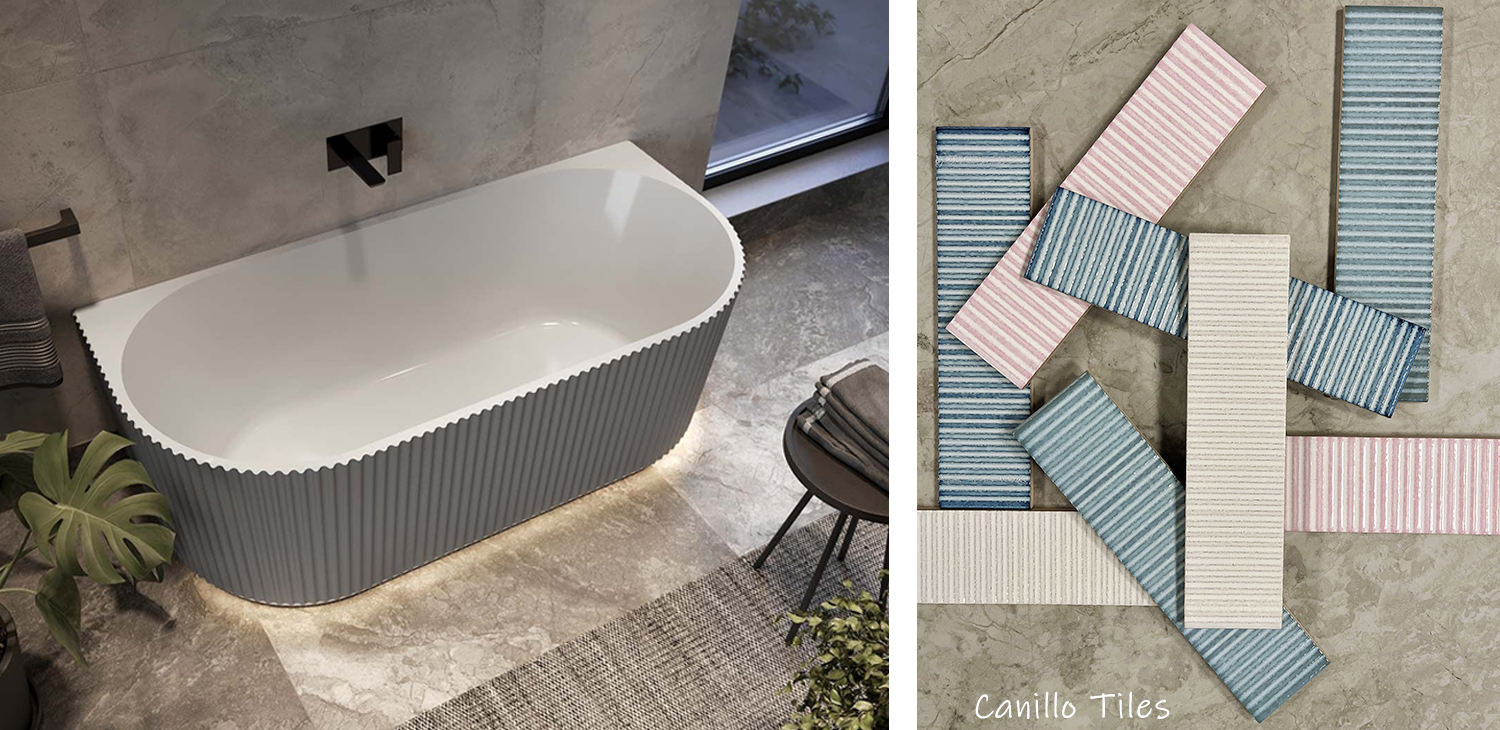 Lee Reed, our Design Director, talks about why it's proving such a popular product: "Fluting originated from architecture and is usually achieved through a series of shallow grooves that run across a surface, creating texture and interest.
"We're seeing more demand for fluted bathroom products as they add three-dimensional elements to bathroom design that can otherwise be quite stark.
"While fluting can add character and quirkiness, it doesn't overpower a space and is instead classic and understated, making it one of the biggest trends going into 2023."
Alternatively, if you don't have space for a bath and would prefer to add the fluted style elsewhere, go for our Amien Fluted Shower Screen, available in black, gold or gun metal.
View the products in person at one of our nationwide bathroom showrooms, with 0% bathroom finance available.